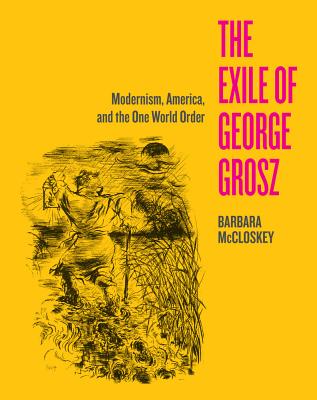 The Exile of George Grosz
Modernism, America, and the One World Order
Hardcover

* Individual store prices may vary.
Description
The Exile of George Grosz examines the life and work of George Grosz after he fled Nazi Germany in 1933 and sought to re-establish his artistic career under changed circumstances in New York. It situates Grosz's American production specifically within the cultural politics of German exile in the United States during World War II and the Cold War. Basing her study on extensive archival research and using theories of exile, migrancy, and cosmopolitanism, McCloskey explores how Grosz's art illuminates the changing cultural politics of exile. She also foregrounds the terms on which German exile helped to define both the limits and possibilities of American visions of a one world order under U.S. leadership that emerged during this period. This book presents Grosz's work in relation to that of other prominent figures of the German emigration, including Thomas Mann and Bertolt Brecht, as the exile community agonized over its measure of responsibility for the Nazi atrocity German culture had become and debated what Germany's postwar future should be. Important too at this time were Grosz's interactions with the American art world. His historical allegories, self-portraits, and other works are analyzed as confrontational responses to the New York art world's consolidating consensus around Surrealism and Abstract Expressionism during and after World War II. This nuanced study recounts the controversial repatriation of Grosz's work, and the exile culture of which it was a part, to a German nation perilously divided between East and West in the Cold War.
University of California Press, 9780520281943, 272pp.
Publication Date: January 31, 2015
About the Author
Barbara McCloskey is Department Chair and Associate Professor of Modern German Art at the University of Pittsburgh. She has published widely on the relationship between art and politics in German twentieth-century art, the visual culture of World War II, and artistic mediations of the experience of exile in the modern and contemporary eras. Her previous books include Artists of World War II and George Grosz and the Communist Party: Art and Radicalism in Crisis, 1918 to 1936.