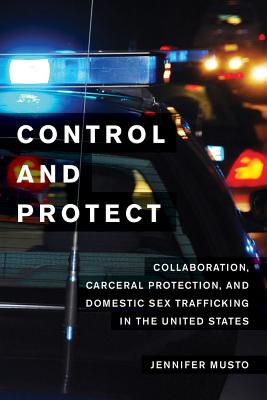 Control and Protect (Paperback)
Collaboration, Carceral Protection, and Domestic Sex Trafficking in the United States
University of California Press, 9780520281967, 256pp.
Publication Date: July 5, 2016
* Individual store prices may vary.
Description
Control and Protect explores the meaning and significance of efforts designed to combat sex trafficking in the United States. A striking case study of the new ways in which law enforcement agents, social service providers, and nongovernmental advocates have joined forces in this campaign, this book reveals how these collaborations consolidate state power and carceral control. This book examines how partnerships forged in the name of fighting domestic sex trafficking have blurred the boundaries between punishment and protection, victim and offender, and state and nonstate authority.
 
About the Author
Jennifer Musto is Assistant Professor of Women's and Gender Studies at Wellesley College.
Praise For Control and Protect: Collaboration, Carceral Protection, and Domestic Sex Trafficking in the United States…
"A brilliantly written book ... Musto reveals the intersecting forces of racism, sexism and social control and the way they are manifested in these new forms of carceral protectionism."
"Control and Protect is a truly formative piece for anyone interested in the genre of critical traffick- ing studies. . . Musto's work paves the way for greatly overdue research that centralizes the voices of sex workers in anti-trafficking initiatives."
"This book highlights important narratives and arguments about the carceral approach and would be an informative read for those interested in trafficking and criminal justice."
"Jennifer Musto's careful, nuanced study of efforts to combat domestic sex trafficking is a welcome addition to critical scholarship of the state."
"Thought-provoking and important... [Control and Protect] should be on the must-read list for psychologists whose work involves commercial sex workers."
"Groundbreaking... Control and Protect is an enormously important contribution to the scholarship on human trafficking."