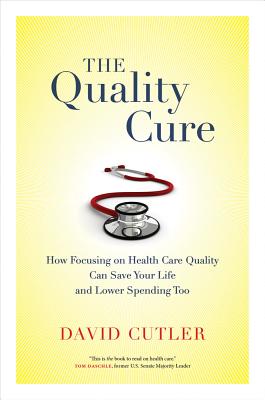 The Quality Cure
How Focusing on Health Care Quality Can Save Your Life and Lower Spending Too (Wildavsky Forum Series #9)
Paperback

* Individual store prices may vary.
Other Editions of This Title:
Hardcover (4/16/2014)
Description

In the United States, the soaring cost of health care has become an economic drag and a political flashpoint. Moreover, although the country's medical spending is higher than that of any other nation, health outcomes are no better than elsewhere, and in some cases are even worse. In The Quality Cure, renowned health care economist and former Obama advisor David Cutler offers an accessible and incisive account of the issues and their causes, as well as a road map for the future of health care reform—one that shows how information technology, realigned payment systems, and value-focused organizations together have the power to resolve this seemingly intractable problem and transform the US health care system into one that is affordable, efficient, and effective.
Praise For The Quality Cure: How Focusing on Health Care Quality Can Save Your Life and Lower Spending Too (Wildavsky Forum Series #9)…
"Cutler has an exceptional ability to tackle an extremely complex topic, such as US health care spending, and make it simple and understandable for noneconomists while remaining true to the theory and science. . . . The Quality Cure should be required reading for those who manage or provide care. In particular, medical students and residents need to understand the ideas in this compelling book. Until now, health care has not had such a simultaneously scholarly and accessible book. Those seasoned in policy making will benefit from Cutler's insider look, his clear and concise way of communicating complex topics, and the detailed references and figures. Those new to the policy efforts around reducing costs and improving quality will also benefit from Cutler's simplified conceptual framework, his clear and compelling language, and his disciplined approach. . . . Cutler's experience, scholarship, and practical wisdom lay out a clear theory of change and policy recommendations for achieving it."
— Peter J. Pronovost
University of California Press, 9780520282001, 240pp.
Publication Date: April 16, 2014
About the Author

A former senior health care advisor to President Barack Obama, David Cutler is Otto Eckstein Professor of Applied Economics at Harvard University and holds joint appointments in the Economics Department at Harvard's Kennedy School of Government and the Harvard School of Public Health. He is the author of Your Money or Your Life: Strong Medicine for America's Health Care System.