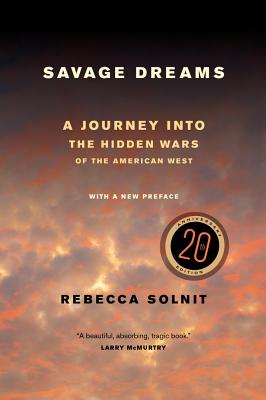 Savage Dreams (Paperback)
A Journey into the Hidden Wars of the American West
University of California Press, 9780520282285, 440pp.
Publication Date: June 6, 2014
* Individual store prices may vary.
Description
"A beautiful, absorbing, tragic book."—Larry McMurtry



In 1851, a war began in what would become Yosemite National Park, a war against the indigenous inhabitants. A century later–in 1951–and a hundred and fifty miles away, another war began when the U.S. government started setting off nuclear bombs at the Nevada Test Site. It was called a nuclear testing program, but functioned as a war against the land and people of the Great Basin.



In this foundational book of landscape theory and environmental thinking, Rebecca Solnit explores our national Eden and Armageddon and offers a pathbreaking history of the west, focusing on the relationship between culture and its implementation as politics. In a new preface, she considers the continuities and changes of these invisible wars in the context of our current climate change crisis, and reveals how the long arm of these histories continue to inspire her writing and hope.
About the Author

Rebecca Solnit is the author of many books, including Storming the Gates of Paradise, Infinite City: A San Francisco Atlas, and Unfathomable City: A New Orleans Atlas, all from UC Press.