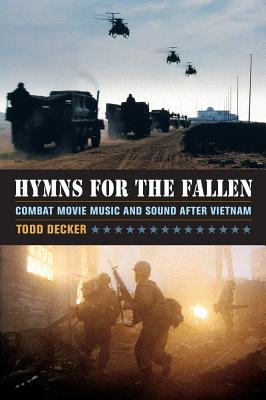 Hymns for the Fallen (Paperback)
Combat Movie Music and Sound after Vietnam
University of California Press, 9780520282339, 274pp.
Publication Date: February 28, 2017
Other Editions of This Title:
Hardcover (2/28/2017)
* Individual store prices may vary.
Description
In Hymns for the Fallen, Todd Decker listens closely to forty years of Hollywood combat films produced after Vietnam. Ever a noisy genre, post-Vietnam war films have deployed music and sound to place the audience in the midst of battle and to provoke reflection on the experience of combat. Considering landmark movies—such as Apocalypse Now, Saving Private Ryan, The Thin Red Line, Black Hawk Down, The Hurt Locker, and American Sniper—as well as lesser-known films, Decker shows how the domain of sound, an experientially rich and culturally resonant aspect of cinema, not only invokes the realities of war, but also shapes the American audience's engagement with soldiers and veterans as flesh-and-blood representatives of the nation. Hymns for the Fallen explores all three elements of film sound—dialogue, sound effects, music—and considers how expressive and formal choices in the soundtrack have turned the serious war film into a patriotic ritual enacted in the commercial space of the cinema.
About the Author
Todd Decker is Professor of Music at Washington University in St. Louis. The author of four books on American commercial music and media, he has lectured at the Library of Congress, London's Victoria and Albert Museum, and LabEx Arts-H2H in Paris.
Praise For Hymns for the Fallen: Combat Movie Music and Sound after Vietnam…
"Marked on every page by clear logic, sensitive perception, and emotional commitment, this is a welcome and original study."
— CHOICE
"The measure of any study, regardless of the field, is its ability to provide new insights and approaches to critical analysis and thus facilitate greater understanding. Such new approaches are particularly important for the mechanisms of cinematic genre because of genre's dynamic tendency to reflect a given period's cultural attitudes. Decker's monograph accomplishes all of this. It is a welcome addition to the literature and will not gather dust on the bookshelf of anyone who is interested in film form in general and in the film score in particular."
— American Music