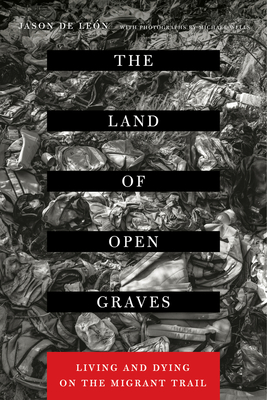 The Land of Open Graves
Living and Dying on the Migrant Trail (California Series in Public Anthropology #36)
Paperback

* Individual store prices may vary.
Other Editions of This Title:
Hardcover (10/23/2015)
Description
In his gripping and provocative debut, anthropologist and MacArthur "Genius" Fellow Jason De León sheds light on one of the most pressing political issues of our time—the human consequences of US immigration policy.  The Land of Open Graves reveals the suffering and deaths that occur daily in the Sonoran Desert of Arizona as thousands of undocumented migrants attempt to cross the border from Mexico into the United States.

Drawing on the four major fields of anthropology, De León uses an innovative combination of ethnography, archaeology, linguistics, and forensic science to produce a scathing critique of "Prevention through Deterrence," the federal border enforcement policy that encourages migrants to cross in areas characterized by extreme environmental conditions and high risk of death. For two decades, this policy has failed to deter border crossers while successfully turning the rugged terrain of southern Arizona into a killing field.

In harrowing detail, De León chronicles the journeys of people who have made dozens of attempts to cross the border and uncovers the stories of the objects and bodies left behind in the desert.

The Land of Open Graves will spark debate and controversy.
Praise For The Land of Open Graves: Living and Dying on the Migrant Trail (California Series in Public Anthropology #36)…
"A powerful book . . . The Land of Open Graves is very appropriately published in the California Series in Public Anthropology and represents just what public or engaged anthropology can and should be. . . . This is a book that all parties should read."
— Anthropology Review Database
"De Leon's work on immigration to the Unites States focuses on a central issue in the United States today, and does so with real power." 
— Savage Minds
"De Leon's text is remarkable in its use of mixed and novel methods, alongside an honest discussion of the reasoning and motivations that inspire his work."
— Migration Studies
"Important and gut-wrenching . . . [De Leon's] engagement with illegal immigration through photography, archeology, forensic science, linguistics, and ethnography is revitalizing in its full encapsulation and acknowledgement of its complexity. . . . I wholly recommend this book."
— Border Criminologies
"Everyone should read this book... De León introduces readers to a world that they likely either do not know or wish they could forget."
— Criminal Law and Criminal Justice Books
"The Land of Open Graves is hard to put down. Its violent and vivid content draws you into a reality that we should all know about, and the author's interpretation provides a political and theoretical perspective that challenges conventional beliefs about undocumented migration."
— Times Literary Supplement
"The Land of Open Graves is an invaluable book, one full of rich ethnographic accounts of migrants, sharp analysis, and beautiful photographs by Michael Wells (as well as some by the migrants De León encounters). It is a strong indictment of the violence migrants face, particularly of a structural sort, and it calls us to "better understand how our worlds are intertwined and the ethical responsibility we have to one another as human beings." It deserves a broad audience."
— NACLA Report on the Americas
University of California Press, 9780520282759, 384pp.
Publication Date: October 23, 2015
About the Author
Jason De León is Professor of Anthropology and Chicana/o Studies at the University of California, Los Angeles, with his lab located in the Cotsen Institute of Archaeology. De León is Executive Director of the Undocumented Migration Project (UMP), a long-term anthropological study of clandestine migration between Latin America and the United States that uses a combination of ethnographic, visual, archaeological, and forensic approaches to understand this violent social process. His academic work has been featured in numerous media outlets, including National Public Radio, the New York Times Magazine, Al Jazeera, The Huffington Post, and Vice. In 2013, De León was named a National Geographic Emerging Explorer, and in 2017, he was the recipient of a MacArthur "Genius" Fellowship.