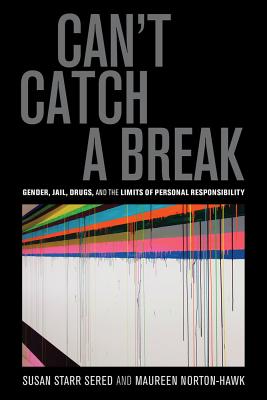 Can't Catch a Break
Gender, Jail, Drugs, and the Limits of Personal Responsibility
Paperback

* Individual store prices may vary.
Other Editions of This Title:
Hardcover (9/12/2014)
Description
Based on five years of fieldwork in Boston, Can't Catch a Break documents the day-to-day lives of forty women as they struggle to survive sexual abuse, violent communities, ineffective social and therapeutic programs, discriminatory local and federal policies, criminalization, incarceration, and a broad cultural consensus that views suffering as a consequence of personal flaws and bad choices. Combining hard-hitting policy analysis with an intimate account of how marginalized women navigate an unforgiving world, Susan Sered and Maureen Norton-Hawk shine new light on the deep and complex connections between suffering and social inequality.

As an additional teaching tool, instructors can find updates about the women in Can't Catch a Break on Susan's blog at http://susan.sered.name/blog/category/cant-catch-a-break/.
Praise For Can't Catch a Break: Gender, Jail, Drugs, and the Limits of Personal Responsibility…
"This compelling and important book deserves to be widely read."
— Publishers Weekly

"This book is more than a local social study. It is an advice for academic researchers to never forget the gap between theory and practice."
— Sexuality & Culture

"Compelling . . . engaging . . . a thorough yet concise testament to the social inequalities that drive mass incarceration."
— Criminal Law and Criminal Justice Books

"The authors convincingly show that the fragmented way we attempt to help poor criminalized women is not working."
— Criminal Justice Review

"By the time you've finished the book, plaguing questions about how 'America deals with human suffering' unsettles you to the point you're almost forced in to action."
— Affilia

"In the hands of Sered and Norton-Hawk, the politics of personal story insist that the reader consider the woman storyteller as real and whole, a person who must be heard. The authors give her space and allow her a history so that her story is round and complicated—not salaciously sensationalized. Can't Catch a Break is an activist demand for the full personhood of the Boston women and their human rights."
— Women's Review of Books

" This book makes a significant contribution to our understanding of the women who cycle through homeless shelters and jails. . . these authors open the way for better strategies that do not blame the victim."
— PsycCRITIQUES

"A refreshingly authentic book that does not fall into the academic trap of constructing this community of women as mad, bad, victims or villains. The participants themselves—as well as the complex array of institutional actors, practices and discourses (and the researchers!)—are portrayed in their multifaceted complexity, from which a searing critique of the "American Dream" and cultural practices of individual responsibility and choice is levied."

— Punishment & Society

"Can't Catch a Break is an engaging read and serves as a good primer for those interested in how policies and institutions maintain gender inequality."
— Journal of Sociology & Social Welfare

"An important book for both scholars and students . . . it provides informative statistics along with eye­opening examples of what life is really like for those struggling within and against powerful government and social institutions."
— The Social Science Journal

"An impressive ethnographic study . . . A valuable addition.
— American Journal of Sociology
University of California Press, 9780520282797, 232pp.
Publication Date: September 12, 2014
About the Author
Susan Starr Sered is Professor of Sociology and Senior Researcher at the Center for Women's Health and Human Rights at Suffolk University in Boston. She is the author of Uninsured in America: Life and Death in the Land of Opportunity. Read more about the women in Can't Catch a Break and Susan's research on her blog at http://susan.sered.name/blog/.

Maureen Norton-Hawk is Professor of Sociology and Codirector of the Center for Crime and Justice Policy Research at Suffolk University in Boston. She has published widely in the field of women and prostitution.