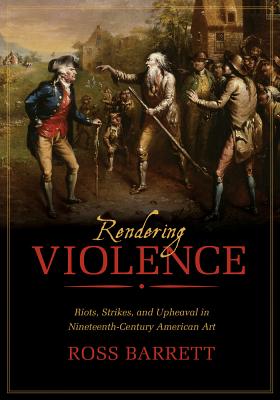 Rendering Violence
Riots, Strikes, and Upheaval in Nineteenth-Century American Art
Hardcover

* Individual store prices may vary.
Description
Rendering Violence explores the problems and possibilities that the subject of political violence presented to American painters working between 1830 and 1890, a turbulent period during which common citizens frequently abandoned orderly forms of democratic expression to riot, strike, and protest violently. Examining a range of critical texts, this book shows for the first time that nineteenth-century American aesthetic theory defined painting as a privileged vehicle for the representation of political order and the stabilization of liberal-democratic life. Analyzing seven paintings by Thomas Cole, John Quidor, Nathaniel Jocelyn, George Henry Hall, Thomas Nast, Martin Leisser, and Robert Koehler, Ross Barrett reconstructs the strategies that American artists developed to explore the symbolic power of violence in a medium aligned ideologically with lawful democracy. He argues that American paintings of upheaval "render" their subjects in divergent ways. By exploring the inner conflicts that structure these painterly projects, Barrett sheds new light on the politicized pressures that shaped visual representation in the nineteenth century and on the anxieties and ambivalences that have long defined American responses to political turmoil.
Praise For Rendering Violence: Riots, Strikes, and Upheaval in Nineteenth-Century American Art…
"Intriguing."
— CHOICE
"[Barrett's] arguments not only convince, but also lay out an analytical framework applicable to the rendering of political violence today. This book represents a superb piece of scholarship."
— ARLIS/NA Reviews
University of California Press, 9780520282896, 244pp.
Publication Date: August 29, 2014
About the Author
Ross Barrett is Assistant Professor of Art History at the University of South Carolina. He has published articles in The Art Bulletin, American Art, and Winterthur Portfolio, along with catalog essays and entries on American painting and vernacular photography. He is also coeditor, with Daniel Worden, of Oil Culture, a volume of essays that examines cultural representations of petroleum and the oil industry.
or
Not Currently Available for Direct Purchase