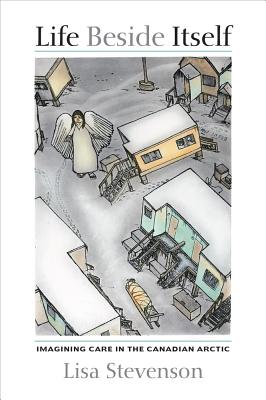 Life Beside Itself
Imagining Care in the Canadian Arctic
Paperback

* Individual store prices may vary.
Other Editions of This Title:
Hardcover (8/22/2014)
Description
In Life Beside Itself, Lisa Stevenson takes us on a haunting ethnographic journey through two historical moments when life for the Canadian Inuit has hung in the balance: the tuberculosis epidemic (1940s to the early 1960s) and the subsequent suicide epidemic (1980s to the present). Along the way, Stevenson troubles our commonsense understanding of what life is and what it means to care for the life of another. Through close attention to the images in which we think and dream and through which we understand the world, Stevenson describes a world in which life is beside itself: the name-soul of a teenager who dies in a crash lives again in his friend's newborn baby, a young girl shares a last smoke with a dead friend in a dream, and the possessed hands of a clock spin uncontrollably over its face. In these contexts, humanitarian policies make little sense because they attempt to save lives by merely keeping a body alive. For the Inuit, and perhaps for all of us, life is "somewhere else," and the task is to articulate forms of care for others that are adequate to that truth.
Praise For Life Beside Itself: Imagining Care in the Canadian Arctic…
"Stevenson explores how care in Inuit communities is like a raven, a spiritual force that binds the living and the dead in ways that are not always straightforward or obvious."
— CHOICE

"This courageous humanistic work is well worth a close and critical read, for the simple reason that its author, Lisa Stevenson, addresses one of the most important contemporary healthcare issues in the Canadian North—that of suicide— and along the way challenges the reader through been termed welfare colonialism and continues to struggle with a bureaucratic legacy determined by historical state structure and policy."
— American Anthropologist

"...Life Beside Itself gives us ways of thinking about, theorizing, and living beside the death that inhabits life: the other life that is beside (in this case) the others' life. . . . Stevenson shows us how the Inuit have persistently undertaken to make sense of senselessness. The stakes here are not life and death; they are the possibilities for enabling life and death to fully and tenderly thrive together. The result will deservedly be widely read in anthropology and beyond."
— Somatosphere

"Stevenson's work is an example of classic but contemporary ethnography and an exemplar of what it means to find meaning in subverted contexts of action and thought. By centering uncertainty as the mode, Stevenson implores that thick description comes not only from the meanings people construe, or ostensibly know and understand in the everyday moments of their lives, but also in the absence of any knowing."
— Anthropology and Humanism

"Drawing on material from all over the world, she examines care as a product of colonialism – measuring success by the prevention of death, regardless of the effects of such efforts on the lives of the people concerned."
— Anthropologica
University of California Press, 9780520282940, 272pp.
Publication Date: August 22, 2014
About the Author
Lisa Stevenson is Assistant Professor of Anthropology at McGill University and the editor of Critical Inuit Studies: An Anthology of Contemporary Arctic Ethnography (2006).