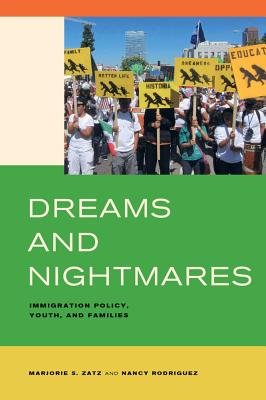 Dreams and Nightmares
Immigration Policy, Youth, and Families
Paperback

* Individual store prices may vary.
Description
Dreams and Nightmares takes a critical look at the challenges and dilemmas of immigration policy and practice in the absence of comprehensive immigration reform. The experiences of children and youth provide a prism through which the interwoven dynamics and consequences of immigration policy become apparent. Using a unique sociolegal perspective, authors Zatz and Rodriguez examine the mechanisms by which immigration policies and practices mitigate or exacerbate harm to vulnerable youth. They pay particular attention to prosecutorial discretion, assessing its potential and limitations for resolving issues involving parental detention and deportation, unaccompanied minors, and Dreamers who came to the United States as young children. The book demonstrates how these policies and practices offer a means of prioritizing immigration enforcement in ways that alleviate harm to children, and why they remain controversial and vulnerable to political challenges.
Praise For Dreams and Nightmares: Immigration Policy, Youth, and Families…
"Highly valuable... this book is a combination of informative resources, rigorous social science research, and is well written to boot!"
— Sociology and Social Welfare

"Invaluable... Dreams and Nightmares presents a compelling analysis of U.S. policies regarding child migrants, and should be read now, as these policies are coming under renewed scrutiny in the Trump administration."
— Criminal Law and Criminal Justice Books

"Well written and engaging... This book is sure to make a significant impact in migration studies for its emphasis on the challenges that emerge when the immigration and criminal justice systems collide."
— International Migration Review
University of California Press, 9780520283060, 216pp.
Publication Date: May 1, 2015
About the Author
Marjorie S. Zatz is Vice Provost and Graduate Dean and Professor of Sociology at the University of California, Merced.
Nancy Rodriguez is Professor of Criminology, Law and Society at University of California, Irvine.