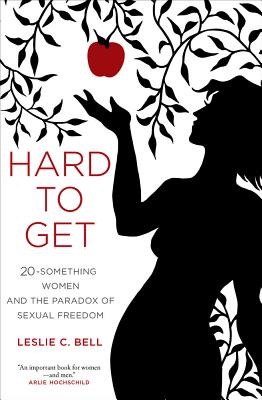 Hard to Get (Paperback)
Twenty-Something Women and the Paradox of Sexual Freedom
University of California Press, 9780520283749, 276pp.
Publication Date: April 12, 2014
Other Editions of This Title:
Hardcover (3/8/2013)
* Individual store prices may vary.
Description
Hard to Get is a powerful and intimate examination of the sex and love lives of the most liberated women in history—twenty-something American women who have had more opportunities, more positive role models, and more information than any previous generation. Drawing from her years of experience as a researcher and a psychotherapist, Leslie C. Bell takes us directly into the lives of young women who struggle to negotiate the complexities of sexual desire and pleasure, and to make sense of their historically unique but contradictory constellation of opportunities and challenges. In candid interviews, Bell's subjects reveal that, despite having more choices than ever, they face great uncertainty about desire, sexuality, and relationships. Ground-breaking and highly readable, Hard to Get offers fascinating insights into the many ways that sex, love, and satisfying relationships prove surprisingly elusive to these young women as they navigate the new emotional landscape of the 21st century.
About the Author
Leslie C. Bell is a sociologist and psychotherapist who specializes in women's development and sexuality. She maintains a private practice in Berkeley, California.
Praise For Hard to Get: Twenty-Something Women and the Paradox of Sexual Freedom…
"Eerily close to the contradictory feelings you've personally had on the subject, but haven't been able to express."
— Anna Breslaw
"Finally! A nuanced look at hookup culture. This hookup book is not like the others."
— Salon
"Bell hopes to dislodge embedded stereotypes of men as subject and women as object and defuse the fear that our sexuality is dangerous. Her book just might help that happen."
— Bust
"Makes a compelling case that young women are both more ambitious—and also more conflicted about relationships—than ever before."
— Jezebel
"Emphasises that the problem is not conflict and hurt, which are inevitable parts of living, but rather that the way these young women interpret and learn from their experiences is crucial."
— Times Higher Education
"Bell's clear prose and accessible subject matter will appeal to both scholars of women's studies and young women looking for an explanation of some of the predicaments their generation faces."
— Kirkus Reviews
"[Bell] hoped to find that young women would have dynamic, confident sex lives . . . but found a much more complex, difficult, dare we say Lena Dunham-esque situation instead."
— San Francisco Magazine
"[Hard to Get] will resonate with many, and . . . will intrigue sociologists in this field."
— J. M. Irvine
"Timely. . . . Bell provides a nuanced examination of the conflicts 20-something women have in navigating the issues of their professional life versus their personal life."
— Carolee A. Kallmann
"An accessable and provocative text for encouraging conversation on the psychological consequences of persistent gender inequalities in this so-called post-feminist era."
— Catherine Connell