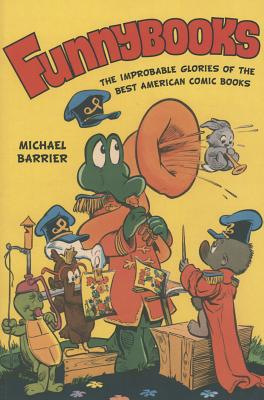 Funnybooks (Paperback)
The Improbable Glories of the Best American Comic Books
University of California Press, 9780520283909, 432pp.
Publication Date: November 27, 2014
Other Editions of This Title:
Hardcover (11/27/2014)
* Individual store prices may vary.
Description
Funnybooks is the story of the most popular American comic books of the 1940s and 1950s, those published under the Dell label. For a time, "Dell Comics Are Good Comics" was more than a slogan—it was a simple statement of fact. Many of the stories written and drawn by people like Carl Barks (Donald Duck, Uncle Scrooge), John Stanley (Little Lulu), and Walt Kelly (Pogo) repay reading and rereading by educated adults even today, decades after they were published as disposable entertainment for children. Such triumphs were improbable, to say the least, because midcentury comics were so widely dismissed as trash by angry parents, indignant librarians, and even many of the people who published them. It was all but miraculous that a few great cartoonists were able to look past that nearly universal scorn and grasp the artistic potential of their medium. With clarity and enthusiasm, Barrier explains what made the best stories in the Dell comic books so special. He deftly turns a complex and detailed history into an expressive narrative sure to appeal to an audience beyond scholars and historians.
About the Author
Michael Barrier is the author of Hollywood Cartoons: American Animation in Its Golden Age and The Animated Man: A Life of Walt Disney. He is also coeditor (with Martin Williams) of A Smithsonian Book of Comic-Book Comics and coauthor (with Harvey Kurtzman) of From Aargh! to Zap! Harvey Kurtzman's Visual History of the Comics.
Praise For Funnybooks: The Improbable Glories of the Best American Comic Books…
"Comics historian Barrier sets off like Scrooge McDuck in search of gold. He pans out the criteria of artists including Walt Kelly, John Stanley and Carl Barks, and stakes a claim for their work as deserving the same respect as classic literature."
— Ron Wolfe
"In 'Funnybooks,' Mr. Barrier, whose previous works include a history of the Hollywood animated film as well as an excellent biography of Walt Disney, has set out to write a business history of Dell Comics. . . . For his study, Mr. Barrier draws on interviews, archives and his own astute knowledge of comics."
— Will Friedwald
"Barrier re-immerses himself in classic comic books and emerges impervious to nostalgia."
— Paul Gravett
"Funnybooks is the crowning achievement of Barrier's illustrious career. . . . Written with clarity, expressiveness, and enthusiasm, this is a book for scholars, historians, practitioners, and fans old and new."
— J. A. Lent