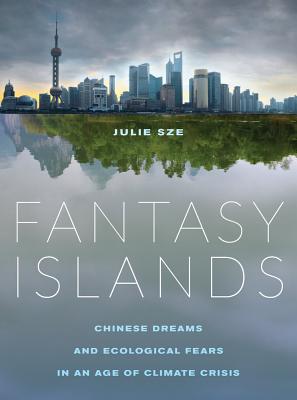 Fantasy Islands
Chinese Dreams and Ecological Fears in an Age of Climate Crisis
Paperback

* Individual store prices may vary.
Other Editions of This Title:
Hardcover (1/5/2015)
Description
The rise of China and its status as a leading global factory are altering the way people live and consume. At the same time, the world appears wary of the real costs involved. Fantasy Islands probes Chinese, European, and American eco-desire and eco-technological dreams, and examines the solutions they offer to environmental degradation in this age of global economic change.

Uncovering the stories of sites in China, including the plan for a new eco-city called Dongtan on the island of Chongming, mega-suburbs, and the Shanghai World Expo, Julie Sze explores the flows, fears, and fantasies of Pacific Rim politics that shaped them. She charts how climate change discussions align with US fears of China's ascendancy and the related demise of the American Century, and she considers the motives of financial and political capital for eco-city and ecological development supported by elite power structures in the UK and China. Fantasy Islands shows how ineffectual these efforts are while challenging us to see what a true eco-city would be.
Praise For Fantasy Islands: Chinese Dreams and Ecological Fears in an Age of Climate Crisis…
"Julie Sze has written a perceptive and engaging account of the hopes and dreams embodied in Dongtan and why the project was such an abysmal failure. A mix of critique and reportage, the weaving of a theoretical approach with that of a traveler whose father coincidentally grew up on Chongming, Sze masterfully unpicks the strands of what was intended as the world's largest new environmental city. . . . An impressive achievement in looking through new eyes at China's efforts to deal with its environmental challenges."
— Mark L. Clifford

"Sze's exploration of the official self-delusion and public eco-desires that sustain fantasies such as Dongtan is compelling. . . . What Sze's exploration of the narratives of eco-modernism shows well is how flexible the creed of environmentalism can be – and how that quality can be manipulated."
— Fred Pearce

"Recommended reading for both those trying to get to grips with green purchasing in developing countries, as well as those interested in what the people on the street think of planning green and thinking huge. It is also a refreshing read compared to media coverage on the issue, which tends to label developments as 'hilarous' or 'bizarre', or just interview the big names involved, without providing much on-the-ground insight."
— Michael Veale

"Carbon-neutral, zero-waste and home to 500,000 people: the Chinese eco-city of Dongtan seemed a radical urban dream. But the city, to be sited near Shanghai on Chongming — the world's biggest alluvial island — remains a blueprint. As Julie Sze argues in this thoughtful . . . analysis of Chinese "eco-desire", the culprit could be irreconcilable beliefs in harmony with nature, and the ability of autocratic political structures to enact radical change."
— Barbara Kiser

"A fascinating story for readers interested in modern China, urban history, and global studies of ecology and the environment!"
— Carla Nappi

"A thought-provoking new book."
— Jan McGirk

"It is easy to paint a black-and-white picture of China's environmental policies. But in Fantasy Islands, Julie Sze is able to bring a more nuanced view. . . . In Fantasy Islands, the author raises some excellent questions about global efforts to deal with climate change through technological solutions."
— Joan Mooney

"Fantasy Islands accessibly introduces paradoxes of greening China's future."
— G. W. McDonogh
University of California Press, 9780520284487, 248pp.
Publication Date: January 5, 2015
About the Author
Julie Sze is Associate Professor of American Studies at UC Davis and founding director of the Environmental Justice Project for the John Muir Institute for the Environment at UC Davis. Her first book, Noxious New York (MIT Press), won the 2008 John Hope Franklin Award for the best book published in American Studies.
or
Not Currently Available for Direct Purchase