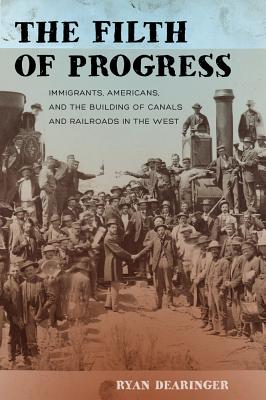 The Filth of Progress (Paperback)
Immigrants, Americans, and the Building of Canals and Railroads in the West
University of California Press, 9780520284609, 284pp.
Publication Date: October 30, 2015
* Individual store prices may vary.
Description
The Filth of Progress explores the untold side of a well-known American story. For more than a century, accounts of progress in the West foregrounded the technological feats performed while canals and railroads were built and lionized the capitalists who financed the projects. This book salvages stories often omitted from the triumphant narrative of progress by focusing on the suffering and survival of the workers who were treated as outsiders. Ryan Dearinger examines the moving frontiers of canal and railroad construction workers in the tumultuous years of American expansion, from the completion of the Erie Canal in 1825 to the joining of the Central Pacific and Union Pacific railroads in 1869. He tells the story of the immigrants and Americans—the Irish, Chinese, Mormons, and native-born citizens—whose labor created the West's infrastructure and turned the nation's dreams of a continental empire into a reality. Dearinger reveals that canals and railroads were not static monuments to progress but moving spaces of conflict and contestation.
About the Author
Ryan Dearinger is Associate Professor of History at Eastern Oregon University.
Praise For The Filth of Progress: Immigrants, Americans, and the Building of Canals and Railroads in the West…
"Despite navigating such huge geographical and cultural boundaries, The Filth of Progress is able to present a coherent history, which hardly veers off the main tracks of its arguments... an instant classic." 
"The Filth of Progress provides fresh insight into the United States' 19th-century infrastrastructure projects by illuminating their 'dark underbelly' . . . . Dearinger's success and originality lie in his comparative framework, which examines how Irish, Chinese, and Mormon and other native-born workers struggled for identity. . . . An excellent analysis."
"Dearinger has added a thoughtful and well-researched contribution to this genre of scholarship."
"An important contribution to American history and should have an exceptionally profound effect on our understandings of western history and the "transportation frontier" in particular."
"The Filth of Progress... [gives] voice to those absent from the official records: here Dearinger's work triumphs and becomes a fascinating study of a tumultuous period of American history and the formation of American identity."
"The Filth of Progress offers important directives for Gilded Age historians. It urges us to remember who built the infrastructure that defined the Gilded Age. It asks us to consider the legacies of their work in the last decades of the nineteenth century. It reminds us that creating the idea of progress was also laborious. And, in suggesting just how much Gilded Age ideas about nation, citizenship, masculinity, and work were shaped by omitting Irish, Mormon, and Chinese workers, it reminds us of the power and perils of forgetting."