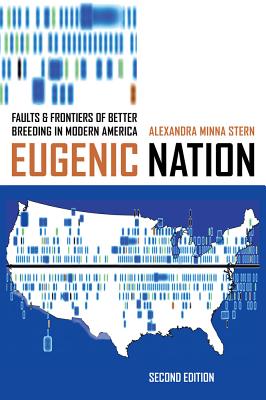 Eugenic Nation
Faults and Frontiers of Better Breeding in Modern America (American Crossroads)
Paperback

* Individual store prices may vary.
Description
First edition, Winner of the Arthur J. Viseltear Prize, American Public Health Association

With an emphasis on the American West, Eugenic Nation explores the long and unsettled history of eugenics in the United States. This expanded second edition includes shocking details demonstrating that eugenics continues to inform institutional and reproductive injustice. Alexandra Minna Stern draws on recently uncovered historical records to reveal patterns of racial bias in California's sterilization program and documents compelling individual experiences. With the addition of radically new and relevant research, this edition connects the eugenic past to the genomic present with attention to the ethical and social implications of emerging genetic technologies.
Praise For Eugenic Nation: Faults and Frontiers of Better Breeding in Modern America (American Crossroads)…
"...a fascinating and mutifaceted contribution to twentieth-century American history."
— Social History
"...a rich narrative of the social, political, and scientific life of the nation, a narrative in which gender and race are central to understanding America's continuing fascination with better breeding." 
— American Historical Review
"Stern meticulously demonstrates the extent to which California eugenics was simultaneously distinct from eugenics in other states and also a major force in the national movement." 
— American Studies
"...Stern has made a significant contribution to the historical record of eugenics."  
— Isis
"With Eugenic Nation Alexandra Stern has refocused the geographical and chronological lens generally used to examine hereditarian impulses in American history. The result is a fascinating and essential contribution to the scholarship on American eugenics." 
— Journal of the History of Biology
"Stern's discussion of eugenics and the family are of particular interest to those debating the relationship between biology and gender. . . . [and] it does provide material for a more nuanced discussion of how sociologists should proceed in the era of the human genome."
— American Journal of Sociology
"Eugenic Nation stunningly traces the cultural continuities in 'better breeding' that refuse to stay in the past."
— Western Historical Quarterly
University of California Press, 9780520285064, 424pp.
Publication Date: December 8, 2015
About the Author
Alexandra Minna Stern is Professor of American Culture, Obstetrics and Gynecology, History, and Women's Studies at the University of Michigan.