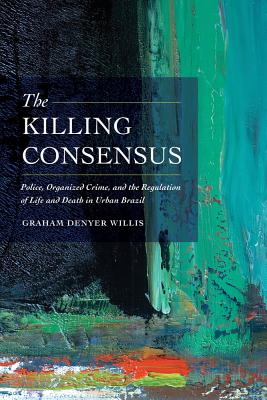 The Killing Consensus
Police, Organized Crime, and the Regulation of Life and Death in Urban Brazil
Paperback

* Individual store prices may vary.
Other Editions of This Title:
Hardcover (3/21/2015)
Description
We hold many assumptions about police work—that it is the responsibility of the state, or that police officers are given the right to kill in the name of public safety or self-defense. But in The Killing Consensus, Graham Denyer Willis shows how in São Paulo, Brazil, killing and the arbitration of "normal" killing in the name of social order are actually conducted by two groups—the police and organized crime—both operating according to parallel logics of murder. Based on three years of ethnographic fieldwork, Willis's book traces how homicide detectives categorize two types of killing: the first resulting from "resistance" to police arrest (which is often broadly defined) and the second at the hands of a crime "family' known as the Primeiro Comando da Capital (PCC). Death at the hands of police happens regularly, while the PCC's centralized control and strict moral code among criminals has also routinized killing, ironically making the city feel safer for most residents. In a fractured urban security environment, where killing mirrors patterns of inequitable urbanization and historical exclusion along class, gender, and racial lines, Denyer Willis's research finds that the city's cyclical periods of peace and violence can best be understood through an unspoken but mutually observed consensus on the right to kill. This consensus hinges on common notions and street-level practices of who can die, where, how, and by whom, revealing an empirically distinct configuration of authority that Denyer Willis calls sovereignty by consensus.
Praise For The Killing Consensus: Police, Organized Crime, and the Regulation of Life and Death in Urban Brazil…
"Weaving in detailed observations from years of fieldwork, Willis's ethnography is both a cautionary tale about the cyclical nature of unregulated violence and a critique of the system that facilitates such an arrangement."
— Survival: Global Politics and Strategy

"An engaging and theoretically thorough interpretation of the public security challenge in urban Brazil."
— Luso-Brazilian Review

"A groundbreaking new study that enhances our understanding of policing in Brazil... a much-needed and timely intervention in the field of policing and urban governance... This is a must-read book for those interested in understanding the rationale of police practices and alternative forms of sovereign power in urban contexts, in which some lives do not matter."
— Jaime Amparo Alves

"The book is tightly written, the analysis interdisciplinary, and the questions raised by the author have profound implications for a host of academic fields."
— Jeff Garmany
University of California Press, 9780520285712, 216pp.
Publication Date: March 21, 2015
About the Author
Graham Denyer Willis is a University Lecturer at the Centres of Development and Latin American Studies and a Fellow at Queens' College, University of Cambridge.