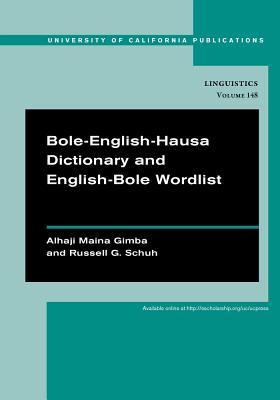 Bole-English-Hausa Dictionary and English-Bole Wordlist (UC Publications in Linguistics #148)
Paperback

* Individual store prices may vary.
Description
This is a dictionary of Bole, a little documented language of the Chadic family, spoken in northeastern Nigeria. This is one of the most comprehensive dictionaries of any Chadic language other than Hausa. All entries for Bole are fully marked for tone and vowel length. The Bole-English-Hausa section has full definitions and explanations of meaning in English with numerous examples of use. Each entry has a Hausa gloss. The English-Bole section is intended mainly as an index to the Bole-English-Hausa section. There are appendices of flora and fauna terms, cultural terms, pronouns, and comprehensive paradigms of verb forms.
University of California Press, 9780520286115, 420pp.
Publication Date: October 7, 2014
About the Author
Alhaji Maina Gimba is Professor in the Department of English at the University of Maiduguri, Nigeria.

Russgel G. Schuh is Professor in the Department of Linguistics at UCLA.