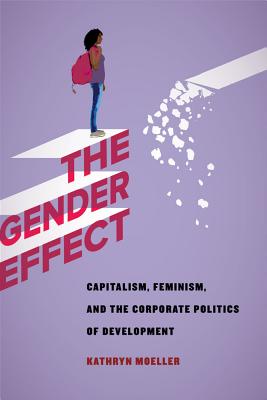 The Gender Effect
Capitalism, Feminism, and the Corporate Politics of Development
Paperback

* Individual store prices may vary.
Other Editions of This Title:
Hardcover (2/16/2018)
Description
How and why are U.S. transnational corporations investing in the lives, educations, and futures of poor, racialized girls and women in the Global South? Is it a solution to ending poverty? Or is it a pursuit of economic growth and corporate profit? Drawing on more than a decade of research in the United States and Brazil, this book focuses on how the philanthropic, social responsibility, and business practices of various corporations use a logic of development that positions girls and women as instruments of poverty alleviation and new frontiers for capitalist accumulation. Using the Girl Effect, the philanthropic brand of Nike, Inc., as a central case study, the book examines how these corporations seek to address the problems of gendered poverty and inequality, yet do so using an instrumental logic that shifts the burden of development onto girls and women without transforming the structural conditions that produce poverty. These practices, in turn, enable corporations to expand their legitimacy, authority, and reach while sidestepping contradictions in their business practices that often exacerbate conditions of vulnerability for girls and women. With a keen eye towards justice, author Kathryn Moeller concludes that these corporatized development practices de-politicize girls' and women's demands for fair labor practices and a just global economy.
Praise For The Gender Effect: Capitalism, Feminism, and the Corporate Politics of Development…
"A sobering and thought-provoking examination of something many of us have taken for granted: the unquestioned benefit and feminist appeal of the Girl Effect model."
— Philanthropy News Digest

"The book is especially interesting for researchers involved in ethnography, feminism, corporate policy making, charitable giving, and the role of capitalism in enhancing and hurting worker conditions."
— CHOICE

"Every now and then, a book comes along that has the potential to widen the compass and shift the terms of debate in a research field in a decisive manner. Kathryn Moeller's The Gender Effect is precisely such a book for the field of global development studies, and especially for critical research on the politics of gender, poverty, and development. . . . the book should be widely read and vigorously discussed as a source of crucial insights into how philanthrocapitalism works to disarm radical political projects, and what can and must be done to avoid this."
— Community Development Journal
University of California Press, 9780520286399, 320pp.
Publication Date: February 16, 2018
About the Author
Kathryn Moeller is Assistant Professor of Educational Policy Studies and an affiliate of the Department of Gender and Women's Studies at the University of Wisconsin–Madison.