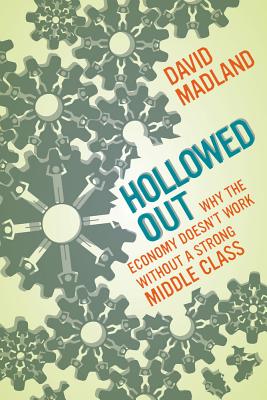 Hollowed Out
Why the Economy Doesn't Work without a Strong Middle Class
Paperback

* Individual store prices may vary.
Other Editions of This Title:
Hardcover (6/24/2015)
Description
For the past several decades, politicians and economists thought that high levels of inequality were good for the economy. But because America's middle class is now so weak, the US economy suffers from the kinds of problems that plague less-developed countries. As Hollowed Out explains, to have strong, sustainable growth, the economy needs to work for everyone and expand from the middle out. This new thinking has the potential to supplant trickle-down economics—the theory that was so wrong about inequality and our economy—and shape economic policymaking for generations.
Praise For Hollowed Out: Why the Economy Doesn't Work without a Strong Middle Class…
"The director of economic policy at the Center for American Progress argues that it is time to mount a political challenge to the economic theories—namely, supply-side, or trickle-down economics—that have provided cover for the unparalleled growth in inequality over the past three decades. . . . A dramatic and clearly delineated outline of 'how the stage has been set for transformative political conflict.'"
— Kirkus

"A provocative and thoughtful analysis. . . . . at the core of his position are important ideas worthy of nuanced debate and further research by all sides."
— Russell MacMullan

"Madland doesn't pull his punches. . . . This is perfect late-summer reading—if you've spent the summer somewhere where there's still a functioning middle class. Come back to the UK, or the more inequitable of US states, and you can read about how it could be summertime all the time. If only we stopped hollowing out."
— Danny Dorling

"A persuasive, accessible economic argument... Hollowed Out offers serious food for thought and is highly recommended for... Economic Studies."
— The Midwest Book Review
University of California Press, 9780520286528, 272pp.
Publication Date: June 24, 2015
About the Author
David Madland, Ph.D., is Managing Director for Economic Policy at the Center for American Progress.