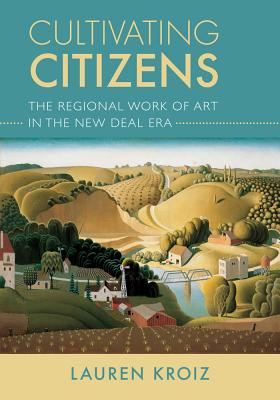 Cultivating Citizens
The Regional Work of Art in the New Deal Era
Hardcover

* Individual store prices may vary.
Description
During the 1930s and 1940s, painters Grant Wood, Thomas Hart Benton, and John Steuart Curry formed a loose alliance as American Regionalists. Some lauded their depictions of the rural landscape and hardworking inhabitants of America's midwestern heartland; others deemed their painting dangerous, regarding its easily understood realism as a vehicle for jingoism and even fascism. Cultivating Citizens focuses on Regionalists and their critics as they worked with and against universities, museums, and the burgeoning field of sociology. Lauren Kroiz shifts the terms of an ongoing debate over subject matter and style, producing the first study of Regionalist art education programs and concepts of artistic labor.
Praise For Cultivating Citizens: The Regional Work of Art in the New Deal Era…
"...a long overdue reevaluation of the American Regionalist triumvirate of Grant Wood, Thomas Hart Benton, and John Steuart Curry. Featuring a mix of lush color reproductions, black-and-white documentary photographs, and preliminary sketches, and drawing on a wealth of primary sources. . . .Cultivating Citizens offers readers a compelling reexamination of the controversies surrounding the art and professional lives of these formidable personalities." 
— Panorama: Journal of the Association of Historians of American Art

"Cultivating Citizens is a richly illustrated and enlightening account of the institutions and educational theories that shaped the public personae of Wood, Benton, and Curry. As a history of ideas rather than an analysis of objects, the book poses numerous questions that inflect the conversation around regional art with critical nuance… [it] is a welcome contribution for its thoughtful and thought-provoking reconsideration of American Regionalism." 
— The Annals of Iowa Journal
University of California Press, 9780520286566, 312pp.
Publication Date: March 30, 2018
About the Author
Lauren Kroiz is Associate Professor of Art History at the University of California, Berkeley, and the author of Creative Composites: Modernism, Race, and the Stieglitz Circle.