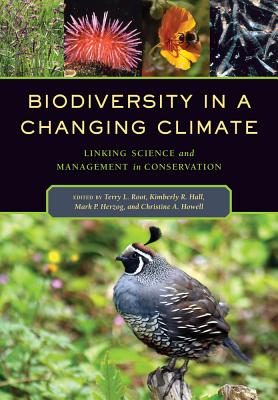 Biodiversity in a Changing Climate (Paperback)
Linking Science and Management in Conservation
University of California Press, 9780520286719, 244pp.
Publication Date: June 16, 2015
* Individual store prices may vary.
Description
One major consequence of climate change is abrupt, dramatic changes in regional biodiversity. Even if the most optimistic scenarios for mitigating climate change transpire, the fate of many wild species rests on the shoulders of people engaged in conservation planning, management, and policy. Providing managers with the latest and most useful climate change research is critical and requires challenging the conventional divide between scientists and managers.

Biodiversity in a Changing Climate promotes dialogue among scientists, decision makers, and managers who are grappling with climate-related threats to species and ecosystems in diverse forms. The book includes case studies and best practices used to address impacts related to climate change across a broad spectrum of species and habitats—from coastal krill and sea urchins to prairie grass and mountain bumblebees. Focused on California, the issues and strategies presented in this book will prove relevant to regions across the West, as well as other regions, and provide a framework for how scientists and managers in any region can bridge the communication divide to manage biodiversity in a rapidly changing world.

Biodiversity and a Changing Climate will prove an indispensable guide to students, scientists, and professionals engaged in conservation and resource management.
About the Author
Terry L. Root is Senior Fellow at the Woods Institute for the Environment, and Professor, by courtesy, in the Department of Biology at Stanford University.

Kimberly R. Hall is a Climate Change Ecologist with The Nature Conservancy and Adjunct Assistant Professor at Michigan State University.

Mark  P. Herzog is Quantitative Ecologist and Wildlife Biologist at the USGS Western Ecological Research Center.

Christine A. Howell is the Regional Wildlife Ecologist for the Pacific Southwest Region of the U.S. Forest Service.
Praise For Biodiversity in a Changing Climate: Linking Science and Management in Conservation…
"This is a well-edited book on the implications of climate change for management and conservation in California. Its value ranges beyond California in part because of the diversity of ecosystems is greater than in any other state, and because the generalities derived and questions raised are applicable beyond the third largest of the 50 states."