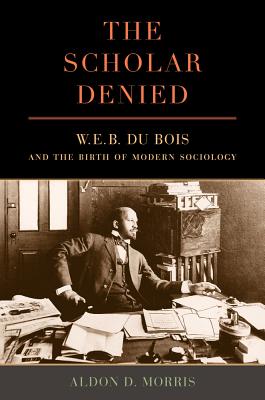 The Scholar Denied
W. E. B. Du Bois and the Birth of Modern Sociology
Paperback

* Individual store prices may vary.
Other Editions of This Title:
Hardcover (8/27/2015)
Description
In this groundbreaking book, Aldon D. Morris's ambition is truly monumental: to help rewrite the history of sociology and to acknowledge the primacy of W. E. B. Du Bois's work in the founding of the discipline. Calling into question the prevailing narrative of how sociology developed, Morris, a major scholar of social movements, probes the way in which the history of the discipline has traditionally given credit to Robert E. Park at the University of Chicago, who worked with the conservative black leader Booker T. Washington to render Du Bois invisible. Morris uncovers the seminal theoretical work of Du Bois in developing a "scientific" sociology through a variety of methodologies and examines how the leading scholars of the day disparaged and ignored Du Bois's work.

The Scholar Denied is based on extensive, rigorous primary source research; the book is the result of a decade of research, writing, and revision. In exposing the economic and political factors that marginalized the contributions of Du Bois and enabled Park and his colleagues to be recognized as the "fathers" of the discipline, Morris delivers a wholly new narrative of American intellectual and social history that places one of America's key intellectuals, W. E. B. Du Bois, at its center.

The Scholar Denied is a must-read for anyone interested in American history, racial inequality, and the academy. In challenging our understanding of the past, the book promises to engender debate and discussion.

 
Praise For The Scholar Denied: W. E. B. Du Bois and the Birth of Modern Sociology…
"A fascinating study."
— Publishers Weekly

"The story of The Scholar Denied is much bigger than a professional insider's debate about founders; bigger than something that only the History of Sociology Section of the ASA should bother with. It is also bigger than questions about who to include on our syllabi, or what stories we tell of the University of Chicago. It is a wake up call about our own professional doxa. It is a call to be just a little more skeptical about those sociological standpoints that purport universality when are not—and can never be. And it is a call to be just a little more open to those standpoints that get occluded: standpoints which would otherwise lead us to real and valuable insights into the social world, just as did the work of Du Bois. . . . The Scholar Denied is a powerful and persuasive plea to pay attention to those voices that might still be unwittingly relegated to the margins on the grounds of their ostensible particularism or subjectivism. And it is a reminder that the cost of such marginalization is not simply an ethical one, it is an epistemic one. And it is one that sociology cannot afford."
— Julian Go

"Aldon Morris takes a huge step forward in The Scholar Denied by placing Du Bois at the center of the sociological canon. . . . Morris should be congratulated for providing us a mandate to both think differently about and conduct more work on the legacy of this brilliant scholar."
— Alford A. Young, Jr.

"The Scholar Denied should be required reading for students of sociological theory and intellectual history. The book should spur new histories that do more than tack on Du Bois and other marginalized scholars as 'a kind of affirmative action,' but instead give their work its rightful, meaningful place in the canon. . . . While Du Bois's relationship with academic sociology evolved over his nearly seven-decade career, at the end, his commitment to Truth remained. Morris deserves recognition for reminding us of this aspect of Du Bois's legacy, insisting that the discipline of sociology come to terms with its own truths."
— Monica Bell

"Morris's book The Scholar Denied affords us insight into a historical moment when white audiences—especially within academia—often ignored, rather than sought out, the experiential expertise of black intellectuals. In particular, Morris details how white sociological and public audiences marginalized the scientific contributions of the sociologist W. E. B. Du Bois and other black social scientists working at the historically black Atlanta University in the early 1900s."
— Matthew Clair

"Dr. Morris' The Scholar Denied is a raucous and, at times, sobering and maddening romp through a segment of intellectual life of the early 20th century that, even to the modern ears of The Diaspora, frequently sounds all too familiar."
— Black Kos

"This well-crafted, meticulously researched, and theoretically serious work will command engagement from the disci- pline writ large. . . . The Scholar Denied takes an enormous and sure-footed stride toward righting a great historic wrong."
— Lawrence D. Bobo

"Groundbreaking . . . A must-read . . . the book promises to engender debate and discussion."
— Marshal Zeringue

"Groundbreaking."
— Hilary Hurd Anyaso

"An excellent addition to your library . . . Morris has done outstanding work. . . . I like to think that if DuBois were here, he would be proud to see it."
— Donna Davis

"This book thus contributes to the sociology of knowledge, including baleful insight into the racist origins of the very discipline itself. . . . Essential."
— CHOICE connect

"Helps rewrite the history of sociology and to acknowledge the primacy of W. E. B. Du Bois's work in the founding of the discipline."
— Diane Patrick

"Provides a fascinating and challenging introduction to one of the towering intellects of the twentieth century, himself a potent proof against the inherent inferiority of African Americans, an assumption he devoted his life to disproving."
— Christopher N. Breiseth

"Magisterial study of WEB Du Bois' impact on sociology"
— Sage

"Morris's work is a first step in discussing a new school of sociological thought"
— American Journal of Sociology
University of California Press, 9780520286764, 320pp.
Publication Date: January 17, 2017
About the Author
Aldon D. Morris is Leon Forrest Professor of Sociology and African American Studies at Northwestern University and the author of The Origins of the Civil Rights Movement: Black Communities Organizing for Change, among other books.