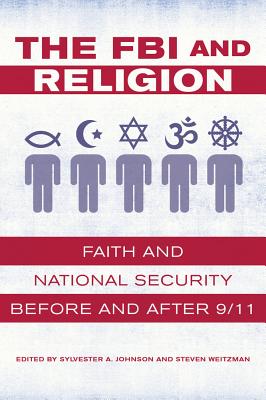 The FBI and Religion
Faith and National Security before and after 9/11
Paperback

* Individual store prices may vary.
Other Editions of This Title:
Hardcover (2/7/2017)
Description
The Federal Bureau of Investigation has had a long and tortuous relationship with religion over almost the entirety of its existence. As early as 1917, the Bureau began to target religious communities and groups it believed were hotbeds of anti-American politics. Whether these religious communities were pacifist groups that opposed American wars, or religious groups that advocated for white supremacy or direct conflict with the FBI, the Bureau has infiltrated and surveilled religious communities that run the gamut of American religious life.
 
The FBI and Religion recounts this fraught and fascinating history, focusing on key moments in the Bureau's history. Starting from the beginnings of the FBI before World War I, moving through the Civil Rights Movement and the Cold War, up to 9/11 and today, this book tackles questions essential to understanding not only the history of law enforcement and religion, but also the future of religious liberty in America.

Praise For The FBI and Religion: Faith and National Security before and after 9/11…
"The story of the FBI and religion is not a series of isolated mishaps, argues a new book of essays edited by Steven Weitzman, a professor at the University of Pennsylvania, and Sylvester A. Johnson, a professor at Northwestern University. Over its 109 years of existence, these historians and their colleagues argue, the Bureau has shaped American religious history through targeted investigations and religiously tinged rhetoric about national security."
— The Atlantic
"This fine book will be useful in courses that seek to examine relations between religion, society, and efforts at social control . . . Highly recommended."
— CHOICE
"These consistently interesting essays provide a complex, provocative, and sometimes disturbing view of the interactions between an important United States institution and religious groups for more than a century."
— Nova Religio
"A provocative history. . . . highly recommend[ed] . . . for any scholar, government employee, religious practitioner, and anyone residing in the US."
— Reading Religion
"The quality of this volume is impeccable."
— European Legacy
University of California Press, 9780520287280, 376pp.
Publication Date: February 7, 2017
About the Author
Sylvester A. Johnson is Associate Professor of African American Studies and Religious Studies at Northwestern University.

Steven P. Weitzman is the Abraham Ellis Professor of Hebrew and Semitic Languages and Literatures at the University of Pennsylvania and director of the Herbert D. Katz Center for Advanced Judaic Studies.