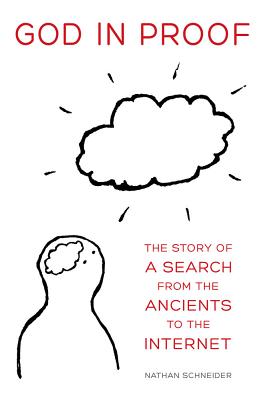 God in Proof (Paperback)
The Story of a Search from the Ancients to the Internet
University of California Press, 9780520287464, 272pp.
Publication Date: July 17, 2015
Other Editions of This Title:
Hardcover (6/10/2013)
* Individual store prices may vary.
Description
In this tour of the history of arguments for and against the existence of God, Nathan Schneider embarks on a remarkable intellectual, historical, and theological journey through the centuries of believers and unbelievers—from ancient Greeks, to medieval Arabs, to today's most eminent philosophers and the New Atheists. Schneider's sure-handed portrayal of the characters and ideas involved in the search for proof challenges how we normally think about doubt and faith while showing that, in their quest for certainty and the proofs to declare it, thinkers on either side of the God divide are often closer to one another than they would like to think.
About the Author
Nathan Schneider is the author of Thank you, Anarchy: Notes from the Occupy Apocalypse. His writing about religion and reason has appeared in Harper's, The New York Times, The New Republic, The Guardian, The Chronicle of Higher Education, Commonweal, and America, among other publications. He is an editor of the website Killing the Buddha.
Praise For God in Proof: The Story of a Search from the Ancients to the Internet…
"As journalist Nathan Schneider aptly observes in 'God in Proof,' proofs about God can be a very preachy genre. . . . Schneider explores them as cultural artifacts, with value regardless of how one evaluates their truth value."
— Becky Garrison
"A book that starts attractively and gets more enjoyable by the page." STARRED REVIEW
— Ray Olson
"As a popularization of recondite argument, God in Proof mingles accessible explanations with a reporter's fresh outlook."
— John L. Murphy
"A philosophically engaging and challenging work, accessible enough for the nonacademic reader as well as specialists."
— Library Journal
"Compulsively readable."
— Phil Klay
"Philosophy is the centerpiece of God in Proof, but at heart the book is a despairing/joyous/troubling/awe-inspiring/universally understood story of an individual struggling with the idea of God. In the world of philosophy, the question of God is entirely divorced from matters of the heart. But what inspires the inquiry and rises from its aftermath is entirely a matter of love—for reason, for people, and for God. God in Proof is a straightforward, unpretentious, and deeply affecting reminder of that."
— Chris Francis
"Though the book is informed by considerable scholarship . . . Schneider's audience includes anyone with an interest in intellectual history and faith. Tracing the philosophical dialectic in a manner both responsible to the issues and accessible to the ordinary reader, Schneider weaves together intellectual history with his own quest for faith."
— William Rehg, S.J.
"For a non-specialist, Schneider, in a compact, book provides background on, synopses of, and observations about a wide spectrum of efforts to prove and disprove God's existence. . . . I recommend Proof to those whose taste in reading runs to philosophical theology and to all those for whom the intellectual side of the religious quest is an interest."
— Drew Christiansen
"Entertaining, well written, and historically comprehensive . . . Schneider has given us a means of clearly seeing the intimate relationship between a religious way of being in the world and the expression of this life in the rational language of proofs."
— Robert Bolger
"By adding dollops of memoir and first-person reportage to a history of attempts to prove that God exists, Schneider makes an often dry subject both companionable and insightful.  Top 10 Religion and Spirituality Books: 2013
— Ilene Cooper
"Relayed in non-technical language, God in Proof challanges the casual and the experienced philospher alike to engage with historical arguments as they make their own quest for truth."
— Timothy Jacobs
"Schneider brings the vaulted ceilings of the topic of the proof of God down to a more understandable, cozier level."
— Hannah Zamora
or
Not Currently Available for Direct Purchase