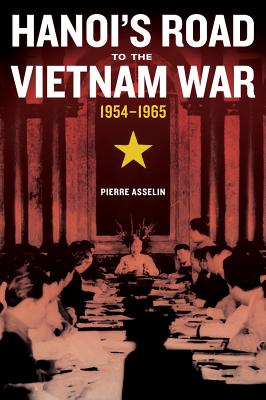 Hanoi's Road to the Vietnam War, 1954-1965 (From Indochina to Vietnam
Revolution and War in a Global Perspective #7)
Paperback

* Individual store prices may vary.
Other Editions of This Title:
Hardcover (8/2/2013)
Description
Hanoi's Road to the Vietnam War opens in 1954 with the signing of the Geneva accords that ended the eight-year-long Franco-Indochinese War and created two Vietnams. In agreeing to the accords, Ho Chi Minh and other leaders of the Democratic Republic of Vietnam anticipated a new period of peace leading to national reunification under their rule; they never imagined that within a decade they would be engaged in an even bigger feud with the United States. Basing his work on new and largely inaccessible Vietnamese materials as well as French, British, Canadian, and American documents, Pierre Asselin explores the communist path to war. Specifically, he examines the internal debates and other elements that shaped Hanoi's revolutionary strategy in the decade preceding U.S. military intervention, and resulting domestic and foreign programs. Without exonerating Washington for its role in the advent of hostilities in 1965, Hanoi's Road to the Vietnam War demonstrates that those who directed the effort against the United States and its allies in Saigon were at least equally responsible for creating the circumstances that culminated in arguably the most tragic conflict of the Cold War era.
Praise For Hanoi's Road to the Vietnam War, 1954-1965 (From Indochina to Vietnam: Revolution and War in a Global Perspective #7)…
"Highly recommended."
— CHOICE
"Excellent new [work] on the Vietnam War."
— Geoffrey C. Stewart
"Outstanding. . . . Illuminating."
— Proceedings
"A valuable contribution to any discussion of North Vietnam's road to war, and the origins of the American stage in the Vietnam War."
— Tal Tovy
"Asselin's excellent study . . . will remain an indispensible source for students of Vietnam, the Cold War, and twentieth-century world history for many years to come."
— Jessica Elkind
"This authoritative and compelling book fills a long-felt need for a scholarly treatment of policy making in Hanoi during the Vietnam War. Pierre Asselin has conducted careful and exhaustive research into available Vietnamese and Western archival sources and consulted widely secondary writings on his topic. The result is a meticulously researched, lucidly written, and highly revealing volume on a previously obscure aspect of the Indochina conflict.... Asselin pushes the frontier of our knowledge about Hanoi's strategic thinking and diplomatic maneuver during the Indochina conflict further than anyone else."
— Journal of American-East Asian Relations
University of California Press, 9780520287495, 352pp.
Publication Date: August 18, 2015
About the Author
Pierre Asselin is Professor of History at Hawaii Pacific University in Honolulu and the author of A Bitter Peace: Washington, Hanoi, and the Making of the Paris Agreement.