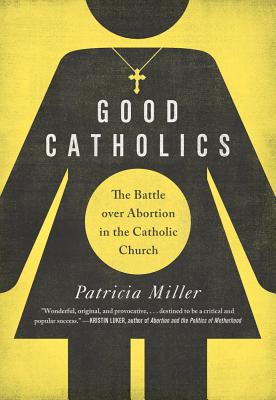 Good Catholics
The Battle over Abortion in the Catholic Church
Paperback

* Individual store prices may vary.
Description
Good Catholics tells the story of the remarkable individuals who have engaged in a nearly fifty-year struggle to assert the moral legitimacy of a pro-choice position in the Catholic Church, as well as the concurrent efforts of the Catholic hierarchy to suppress abortion dissent and to translate Catholic doctrine on sexuality into law. Miller recounts a dramatic but largely untold history of protest and persecution, which demonstrates the profound and surprising influence that the conflict over abortion in the Catholic Church has had not only on the church but also on the very fabric of U.S. politics. Good Catholics addresses many of today's hot-button questions about the separation of church and state, including what concessions society should make in public policy to matters of religious doctrine, such as the Catholic ban on contraception.

Good Catholics is a Gold Medalist (Women's Issues) in the 2015 IPPY awards, an award presented by the Independent Publishers Book Association to recognize excellence in independent book publishing.
Praise For Good Catholics: The Battle over Abortion in the Catholic Church…
"For anyone looking around in the wake of the Supreme Court's recent Hobby Lobby decision and asking, 'How did we get here?' [Good Catholics] provides your answer--and then some. . . . An excellent primer on the dynamic issue of religion in reproductive health issues in the US."
— Cecile Richards, President of Planned Parenthood

"Anyone interested in discovering how and why the abortion issue is so inextricably tied up with Catholicism will be fascinated by this important work."
— Publishers Weekly

"The book will likely give off sparks. But if these sparks inspire people to study this potent moral question in an informed manner, it will have done a service to those on both sides of the divide -- and Miller's book is a good place to begin that study."
— National Catholic Reporter

"While evangelical Christians ultimately brought down the contraception mandate, [Miller shows] they had big help from Catholics."
— Salon

"Lends a voice to Catholics who support abortion rights, giving legitimacy to a group that is often overlooked in the abortion debate."
— Ms. Magazine

"A page-turning thriller filled with courageous individuals."
— Lousewies van der Laan, Vice President of the Alliance of Liberals and Democrats for Europe

"Patricia Miller's excellent new book deals primarily with the top-down leadership of the Vatican and the bishops, who, it should be very clear, do not represent the views of most Catholics but are able to spook many politicians into thinking otherwise. . . . Five stars."
— Free Inquiry

"A serious study instead of what could have been a partisan puff piece."
— Mary E. Hunt

"Thoroughly researched."
— Jim Hinch
University of California Press, 9780520287532, 344pp.
Publication Date: May 20, 2014
About the Author

Patricia Miller is a Washington, D.C.–based journalist and editor who has written extensively about the intersection of politics, sex, and religion. She was the editor of Conscience magazine, the leading journal of pro-choice Catholic thought, and was the editor in chief of the daily health care briefings for National Journal.