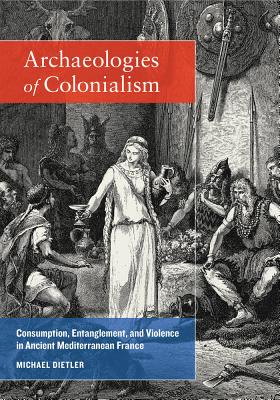 Archaeologies of Colonialism
Consumption, Entanglement, and Violence in Ancient Mediterranean France
Paperback

* Individual store prices may vary.
Other Editions of This Title:
Hardcover (10/17/2010)
Description
This book presents a theoretically informed, up-to-date study of interactions between indigenous peoples of Mediterranean France and Etruscan, Greek, and Roman colonists during the first millennium BC. Analyzing archaeological data and ancient texts, Michael Dietler explores these colonial encounters over six centuries, focusing on material culture, urban landscapes, economic practices, and forms of violence. He shows how selective consumption linked native societies and colonists and created transformative relationships for each. Archaeologies of Colonialism also examines the role these ancient encounters played in the formation of modern European identity, colonial ideology, and practices, enumerating the problems for archaeologists attempting to re-examine these past societies.
Praise For Archaeologies of Colonialism: Consumption, Entanglement, and Violence in Ancient Mediterranean France…
"An important and valuable addition to current studies in postcolonial theory and the colonial phenomenon in the ancient Mediterranean."
— Archaeological Review
"Recommended."
— Choice
"Dietler has produced an outstanding work of scholarship that is sophisticated, intelligent, and insightful, and that deserves the close attention of scholars."
— Journal Of Interdisciplinary History
"Dietler's book is full of interesting . . . insights woven from a particular anthropologically driven perspective."
— http://www.theatlanticcities.com/neighborhoods/2012/02/how-istanbul-became-one-europes-safest-city/1103/#.TyrGDhZDBSY.mailto
"Dazzling. . . . Dietler offers in this utterly captivating study . . . an account of a colonial entanglement like nothing you have ever read."
— Daniel Lord Smail, Harvard University
"An excellent account."
— European Jrnl Of Archaeology
"Substantial and highly informative. . . . A detailed study."
— Richard Hingley, Durham University
University of California Press, 9780520287570, 480pp.
Publication Date: September 22, 2015
About the Author
Michael Dietler is Professor of Anthropology at the University of Chicago and the author of Consumption and Colonial Encounters in the Rhone Basin of France.