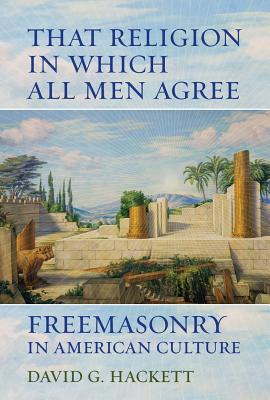 That Religion in Which All Men Agree (Paperback)
Freemasonry in American Culture
University of California Press, 9780520287600, 336pp.
Publication Date: September 15, 2015
Other Editions of This Title:
Hardcover (1/31/2014)
* Individual store prices may vary.
Description

This powerful study weaves the story of Freemasonry into the narrative of American religious history. Freighted with the mythical legacies of stonemasons' guilds and the Newtonian revolution, English Freemasonry arrived in colonial America with a vast array of cultural baggage, which was drawn on, added to, and transformed during its sojourn through American culture. David G. Hackett argues that from the 1730s through the early twentieth century the religious worlds of an evolving American social order broadly appropriated the beliefs and initiatory practices of this all-male society. For much of American history, Freemasonry was both counter and complement to Protestant churches, as well as a forum for collective action among racial and ethnic groups outside the European American Protestant mainstream. Moreover, the cultural template of Freemasonry gave shape and content to the American "public sphere." By including a group not usually seen as a carrier of religious beliefs and rituals, Hackett expands and complicates the terrain of American religious history by showing how Freemasonry has contributed to a broader understanding of the multiple influences that have shaped religion in American culture.
About the Author

David G. Hackett teaches American religious history at the University of Florida.
Praise For That Religion in Which All Men Agree: Freemasonry in American Culture…
"A scholarly work, it is easily read but fully documented with an exhaustive index, huge bibliography, and complete footnotes. Don't miss this one for sure!"
— Ed King, Grand Librarian
"A vital contribution to understanding the development of religious liberty in the foundation of the US."
— CHOICE
"This study of "Freemasonry in American Culture" offers a new perspective on the evolution of American society over more than two centuries. With its impeccable historical scholarship, the volume provides an important insight into the public sphere and an alternative to Habermas's assumptions about the inherent secularity of public culture with the rise of bourgeois society."
— Bryan S. Turner
"The book is particularly strong in its careful attention to historical self-understanding, myth and narrative, historical symbolism, and temporality. Future research on Freemasonry will benefit greatly from it."
— Matthew Crow
"Not only engaging, but also adds significantly to our understanding of Prince Hall Masonry and the African American Church, Freemasonry and Native Americans, and Jews and Catholics."
— Clyde R. Forsberg, Jr.
"This is a fine study. Extensive in scope and lucidly written . . . Breaks new ground."
— R. William Weisberger
"The depth of Hackett's research, which is not meant to offer exhaustive histories but rather demonstrates of why Freemasonry is a helpful source for understanding American religious culture—especially pertaining to gender and race."
— Reading Religion