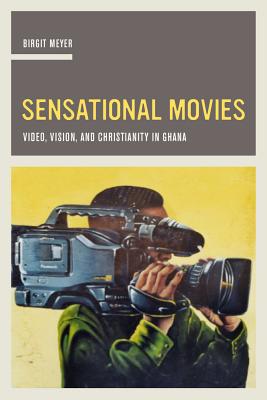 Sensational Movies
Video, Vision, and Christianity in Ghana (The Anthropology of Christianity #17)
Paperback

* Individual store prices may vary.
Other Editions of This Title:
Hardcover (10/16/2015)
Description
Tracing the rise and development of the Ghanaian video film industry between 1985 and 2010, Sensational Movies examines video movies as seismographic devices recording a culture and society in turmoil. This book captures the dynamic process of popular filmmaking in Ghana as a new medium for the imagination and tracks the interlacing of the medium's technological, economic, social, cultural, and religious aspects. Stepping into the void left by the defunct state film industry, video movies negotiate the imaginaries deployed by state cinema on the one hand and Christianity on the other.

Birgit Meyer analyzes Ghanaian video as a powerful, sensational form. Colliding with the state film industry's representations of culture, these movies are indebted to religious notions of divination and revelation. Exploring the format of "film as revelation," Meyer unpacks the affinity between cinematic and popular Christian modes of looking and showcases the transgressive potential haunting figurations of the occult. In this brilliant study, Meyer offers a deep, conceptually innovative analysis of the role of visual culture within the politics and aesthetics of religious world making.
Praise For Sensational Movies: Video, Vision, and Christianity in Ghana (The Anthropology of Christianity #17)…
"A thoughtful and theoretically powerful study, culminating two decades of fieldwork and movie-watching, of mediatization and materialization. . . . An important contribution to the anthropology of religion, of popular media, of invented tradition, and of the cultural formation of the senses and experience."
— Anthropology Review Database

"A rich account... the most sustained and theoretically sophisticated treatment of Christian popular culture in Africa to emerge to date and an important contribution to studies of religion and media."
— American Ethnologist

"A fascinating and engaged ethnography of a crucial period in the Ghanaian film world."
— Marginalia

"...will be regarded as both foundational and pioneering across multiple disciplines for years to come... it is how [Meyer] evaluates and hypothesizes the development of this cultural movement that places her work at the forefront of interdisciplinary research in Africa."
— Material Religion

"Meyer has assembled a theoretically complex, well-written and valuable contribution to religious and media studies in contemporary Africa, accessible to both novices in the field and to veterans seeking new ideas and ways of engaging with media and religious studies research."
— Anthropology Southern Africa
University of California Press, 9780520287686, 408pp.
Publication Date: October 16, 2015
About the Author
BirgitMeyer is a cultural anthropologist and Professor of Religious Studies at Utrecht University, The Netherlands. She is Vice-Chair of the International African Institute and a member of the Royal Netherlands Academy of Arts and Sciences.