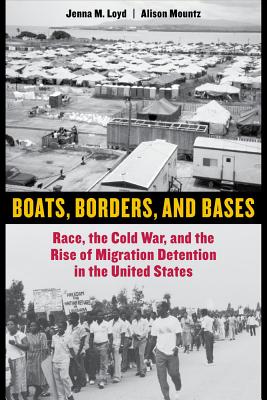 Boats, Borders, and Bases
Race, the Cold War, and the Rise of Migration Detention in the United States
Paperback

* Individual store prices may vary.
Other Editions of This Title:
Hardcover (3/9/2018)
Description
Discussions about U.S. migration policing have traditionally focused on enforcement along the highly charged U.S.-Mexico boundary. Enforcement practices such as detention policies designed to restrict access to asylum also transpire in the Caribbean. Boats, Borders, and Bases tells a missing, racialized history of the U.S. migration detention system that was developed and expanded to deter Haitian and Cuban migrants. Jenna M. Loyd and Alison Mountz argue that the U.S. response to Cold War Caribbean migrations established the legal and institutional basis for contemporary migration detention and border-deterrent practices in the United States. This book will make a significant contribution to a fuller understanding of the history and geography of the United States's migration detention system.
Praise For Boats, Borders, and Bases: Race, the Cold War, and the Rise of Migration Detention in the United States…
"Although this book makes a much-needed contribution to critical geography, migration, race, criminology, and legal scholarship, it also nicely complements recent work-like From Deportation to Prison: The Politics of Immigration Enforcement in Post-Civil Rights America, which seek to identify the rise of migrant detention throughout the US. This book takes that task one step further by theorizing spaces and processes of deterrence and detention beyond the interior of the US while making an even broader contribution to research on multijurisdictional patchworks."
— International Criminal Justice Review

"Long-neglected by scholars of mass incarceration and migration alike, the U.S. immigration detention system is attracting increasing concern and media attention in the Trump era. Much of this coverage, however, lacks historical context. A majority of scholarship on migrant detention focuses on the explosive growth of the system since 9/11 and on the US-Mexico border as a primary enforcement site. Boats, Borders, and Bases contributes to an emerging body of scholarship that fills gaps in these narratives by illuminating the deeper and less visible Cold War and Caribbean roots of the contemporary detention system."
— Criminal Law & Criminal Justice Books

"A book with an urgent ethical and legal purpose."
— Religious Studies Review
University of California Press, 9780520287976, 320pp.
Publication Date: March 9, 2018
About the Author
Jenna M. Loyd is Assistant Professor of Geography at the University of Wisconsin-Madison.

Alison Mountz is Professor of Geography at Wilfrid Laurier University and Canada Research Chair in Global Migration at the Balsillie School of International Affairs .