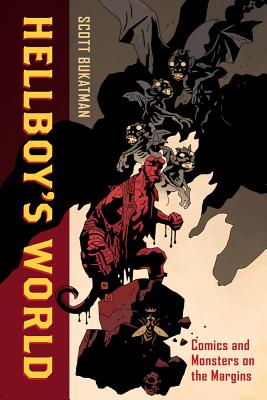 Hellboy's World (Paperback)
Comics and Monsters on the Margins
University of California Press, 9780520288041, 280pp.
Publication Date: April 7, 2016
Other Editions of This Title:
Hardcover (4/7/2016)
* Individual store prices may vary.
Description
Hellboy, Mike Mignola's famed comic book demon hunter, wanders through a haunting and horrific world steeped in the history of weird fictions and wide-ranging folklores. Hellboy's World shows how our engagement with Hellboy's world is a highly aestheticized encounter with comics and their materiality. Scott Bukatman's dynamic study explores how comics produce a heightened "adventure of reading" in which syntheses of image and word, image sequences, and serial narratives create compelling worlds for the reader's imagination to inhabit. Drawing upon other media—including children's books, sculpture, pulp fiction, cinema, graphic design, painting, and illuminated manuscripts—Bukatman reveals the mechanics of creating a world on the page. He also demonstrates the pleasurable and multiple complexities of the reader's experience, invoking the riotous colors of comics that elude rationality and control and delving into shared fictional universes and occult detection, the horror genre and the evocation of the sublime, and the place of abstraction in Mignola's art. Monsters populate the world of Hellboy comics, but Bukatman argues that comics are themselves little monsters, unruly sites of sensory and cognitive pleasures that exist, happily, on the margins. The book is not only a treat for Hellboy fans, but it will entice anyone interested in the medium of comics and the art of reading.
About the Author
Scott Bukatman is Professor of Film and Media Studies in the Department of Art and Art History at Stanford University. He is author of Matters of Gravity: Special Effects and Supermen in the 20th Century; Blade Runner, BFI Modern Classics; Terminal Identity: The Virtual Subject in Postmodern Science Fiction; and The Poetics of Slumberland: Animated Spirits and the Animating Spirit.
Praise For Hellboy's World: Comics and Monsters on the Margins…
"Hellboy's World is really a manifesto for a different kind of comics studies."
— Confessions of an Aca-Fan
Quite simply, a masterpiece of loving attention and lively interaction with the works under study. More than that: a constellation of ideas that bear on comics in general, art and culture at large, and the very act (or as Bukatman says, the adventure) of reading itself.
,
— Charles Hatfield
"Hellboy's World is written with such joyfulness and panache that I find it a pleasure to page through, again and again. Beautifully designed, bountifully illustrated — all scholarly tomes on comic art should look this good."
— Charles Hatfield
"Multitasking among such a broad range of texts and media sounds daunting, but Bukatman meets the challenge with energy and grace. . . [he] takes mainstream comics like Hellboy on their own terms for the complex and elusive creatures they are."
— Film Quarterly
or
Not Currently Available for Direct Purchase