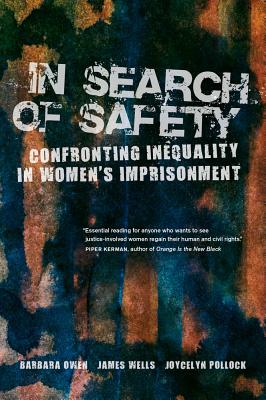 In Search of Safety (Paperback)
Confronting Inequality in Women's Imprisonment (Gender and Justice #3)
University of California Press, 9780520288720, 280pp.
Publication Date: January 24, 2017
Other Editions of This Title:
Hardcover (1/24/2017)
* Individual store prices may vary.
Description
In Search of Safety takes a close look at the sources of gendered violence and conflict in women's prisons. The authors examine how intersectional inequalities and cumulative disadvantages are at the root of prison conflict and violence and mirror the women's pathways to prison. Women must negotiate these inequities by developing forms of prison capital—social, human, cultural, emotional, and economic—to ensure their safety while inside. The authors also analyze how conflict and subsequent violence result from human-rights violations inside the prison that occur within the gendered context of substandard prison conditions, inequalities of capital among those imprisoned, and relationships with correctional staff. In Search of Safety proposes a way forward—the implementation of international human-rights standards for U.S. prisons. 
 
About the Author
Barbara Owen is Professor Emerita at California State University, Fresno. 
James Wells is Professor of Criminology and Criminal Justice in the School of Justice Studies at Eastern Kentucky University. 
Joycelyn Pollock is Distinguished Professor in the School of Criminal Justice at Texas State University. 
Praise For In Search of Safety: Confronting Inequality in Women's Imprisonment (Gender and Justice #3)…
"Theoretically and conceptually sophisticated... the authors provide a sound rationale for their proposed solutions, and they are likely to be applauded by many critical criminologists exposed to them."
— Critical Criminology
"A timely and sobering assessment of what mass imprisonment has meant for women behind bars in our country. One could hardly have asked for a better team to compile the assessment."
— Theory in Action
"Owen, Wells and Pollock have produced a perceptive and thought-provoking study, an invitation to think creatively about the connections between gender, criminal justice and harm.... Overall, this is an extensive, thorough and important contribution to the field, one which will reverberate personally, politically and professionally."
— British Journal of Criminology
"Conceptualizing the incarceration of women as a human rights issue is timely and important, and it is a powerful feminist stance for social justice for this gendered population that is in need of advocacy, treatment, care, and concern. We recommend In Search of Safety: Confronting Inequality in Women's Imprisonment as a powerful tool for education and empowerment by those who would choose to step forward to offer care for these women behind bars."
— Sex Roles
"In Search of Safety: Confronting Inequality in Women's Imprisonment is an expertly written, and captivating book that examines imprisoned women's experiences with violence and their ability to navigate prison conflict."
— Criminal Law and Criminal Justice Books