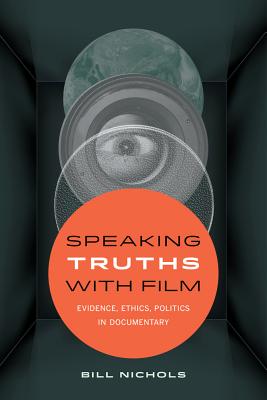 Speaking Truths with Film
Evidence, Ethics, Politics in Documentary
Paperback

* Individual store prices may vary.
Other Editions of This Title:
Hardcover (4/5/2016)
Description
How do issues of form and content shape the documentary film? What role does visual evidence play in relation to a documentary's arguments about the world we live in? In what ways do documentaries abide by or subvert ethical expectations? Are mockumentaries a form of subversion? Can the documentary be an aesthetic experience and at the same time have political or social impact? And how can such impacts be empirically measured? Pioneering film scholar Bill Nichols investigates the ways documentaries strive for accuracy and truthfulness and simultaneously fabricate a form that shapes reality. Such films may rely on reenactment to re-create the past, storytelling to provide satisfying narratives, and rhetorical figures such as metaphor or devices such as irony to make a point. Documentaries are truly a fiction unlike any other.

With clarity and passion, Nichols offers incisive commentaries on the basic questions of documentary's distinct relationship to the reality it represents, as well as close readings of provocative documentaries from this form's earliest days to its most recent incarnations. These essays offer a definitive account of what makes documentary film such a vital part of our cultural landscape.
Praise For Speaking Truths with Film: Evidence, Ethics, Politics in Documentary…
"There is a fluidity in Nichols' writing that gently forces us to see the 'blurred boundaries' . . . between all forms of visual expression. In reading these essays, one is often struck by how much is illuminated, not only within the boundaries of documentary film but into the historical, political, social and cultural world that provides the fertile ground where ideas take root."
— Documentary

"Nichols's marvelous volume of essays . . . spans forty years of his contribution to contemporary film theory. It offers lucid, articulate, and illuminating studies of both general issues in documentary theory and of individual films. Readers familiar with his books will find fascinating essays here, both supplementing his published volumes and adding new perspectives on his work."
— European Legacy
University of California Press, 9780520290402, 296pp.
Publication Date: April 5, 2016
About the Author
Bill Nichols is a leading authority on documentary film and the author or editor of a dozen books. His Introduction to Documentary is the standard text in this area. He lectures widely and consults often with documentary filmmakers on their projects.