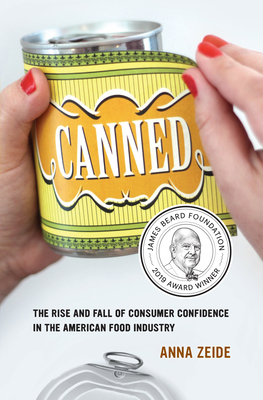 Canned (Hardcover)
The Rise and Fall of Consumer Confidence in the American Food Industry (California Studies in Food and Culture #68)
University of California Press, 9780520290686, 280pp.
Publication Date: March 6, 2018
Other Editions of This Title:
Paperback (10/18/2019)
* Individual store prices may vary.
Description
2019 James Beard Foundation Book Award winner: Reference, History, and Scholarship

A century and a half ago, when the food industry was first taking root, few consumers trusted packaged foods. Americans had just begun to shift away from eating foods that they grew themselves or purchased from neighbors. With the advent of canning, consumers were introduced to foods produced by unknown hands and packed in corrodible metal that seemed to defy the laws of nature by resisting decay.
 
Since that unpromising beginning, the American food supply has undergone a revolution, moving away from a system based on fresh, locally grown goods to one dominated by packaged foods. How did this come to be? How did we learn to trust that food preserved within an opaque can was safe and desirable to eat? Anna Zeide reveals the answers through the story of the canning industry, taking us on a journey to understand how food industry leaders leveraged the powers of science, marketing, and politics to win over a reluctant public, even as consumers resisted at every turn.
About the Author
Anna Zeide is Assistant Professor of Professional Practice at Oklahoma State University, where her research, teaching, and community activism focus on food and food systems.
Praise For Canned: The Rise and Fall of Consumer Confidence in the American Food Industry (California Studies in Food and Culture #68)…
"Zeide's account goes well beyond canned food to include many other aspects of the larger food system and consumer activism more generally . . . She uses a wide range of primary and secondary sources, and demonstrates familiarity with a broad literature on the history of food and consumption. In this way, the book speaks to an interdisciplinary audience with ease."
— American Historical Review