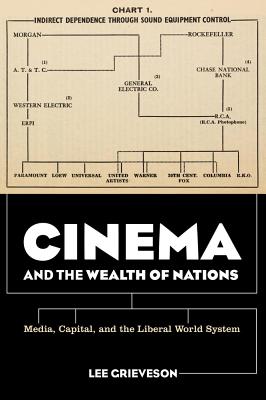 Cinema and the Wealth of Nations
Media, Capital, and the Liberal World System
Paperback

* Individual store prices may vary.
Other Editions of This Title:
Hardcover (11/24/2017)
Description
Cinema and the Wealth of Nations explores how media, principally in the form of cinema, was used during the interwar years by elite institutions to establish and sustain forms of liberal political economy beneficial to their interests. It examines the media produced by institutions such as states, corporations, and investment banks, as well as the emergence of a corporate media industry and system supported by state policy and integral to the establishment of a new consumer system. Lee Grieveson shows how media was used to encode liberal political and economic power during the period that saw the United States eclipse Britain as the globally hegemonic nation and the related inauguration of new forms of liberal economic globalization. But this is not a distant history. Cinema and the Wealth of Nations examines a foundational conjuncture in the establishment of media forms and a media system instrumental in, and structural to, the emergence and expansion of a world system that has been—and continues to be—brutally violent, unequal, and destructive.
Praise For Cinema and the Wealth of Nations: Media, Capital, and the Liberal World System…
"Lee Grieveson's bold historical analysis of the relationship between media and capital is nothing if not timely. . . . [He] deepens the scholarship on cinema's social role beyond the dominant art and entertainment paradigms." 
— Reviews in History

"A monumental achievement, a book that invites scholars to rethink what it means to research and write film history."
— JCMS: Journal of Cinema and Media Studies

"Few recent books in film and media studies can match the ambition Lee Grieveson set himself with Cinema and the Wealth of Nations: Media, Capital, and the Liberal World System, and even fewer have delivered in the way Grieveson does. Nothing less than a comprehensive reconceptualisation of the discipline is on the agenda . . . in which political economy replaces aesthetics at the centre of our concerns, and in which questions of corporate ownership, state policy and class hegemony form the core of research in the field. . . . [It's a] rare breed of academic text: one that leaves the reader vivified at the end, as Grieveson's final chapter whizzes from the techno-futurism of the 1939 World Fair, through the cinema's insertion into the military-industrial complex in the Cold War and onto the fully automated drone-logic of contemporary capitalist media."
— Senses of Cinema
University of California Press, 9780520291690, 492pp.
Publication Date: November 24, 2017
About the Author
Lee Grieveson is Professor of Media History at University College London. He is the author of Policing Cinema: Movies and Censorship in Early Twentieth Century America and coeditor of a number of volumes, including Inventing Film Studies, Empire and Film, and, most recently, Cinema's Military Industrial Complex.