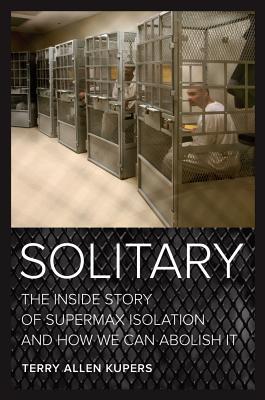 Solitary
The Inside Story of Supermax Isolation and How We Can Abolish It
Hardcover

* Individual store prices may vary.
Description
"When I testify in court, I am often asked: 'What is the damage of long-term solitary confinement?' . . . Many prisoners emerge from prison after years in solitary with very serious psychiatric symptoms even though outwardly they may appear emotionally stable. The damage from isolation is dreadfully real."
—Terry Allen Kupers
 
Imagine spending nearly twenty-four hours a day alone, confined to an eight-by-ten-foot windowless cell. This is the reality of approximately one hundred thousand inmates in solitary confinement in the United States today. Terry Allen Kupers, one of the nation's foremost experts on the mental health effects of solitary confinement, tells the powerful stories of the inmates he has interviewed while investigating prison conditions during the past forty years. Touring supermax security prisons as a forensic psychiatrist, Kupers has met prisoners who have been viciously beaten or raped, subdued with immobilizing gas, or ignored in the face of urgent medical and psychiatric needs. Kupers criticizes the physical and psychological abuse of prisoners and then offers rehabilitative alternatives to supermax isolation. Solitary is a must-read for anyone interested in understanding the true damage that solitary confinement inflicts on individuals living in isolation as well as on our society as a whole.
Praise For Solitary: The Inside Story of Supermax Isolation and How We Can Abolish It…
"A must-read for those running our prisons and for policymakers in a position to reform them."
— Kirkus Reviews

"Terry Kupers' Solitary represents both a robust intellectual contribution to analyses of modern solitary confinement use and a powerful piece of advocacy advocating for abolition of the practice – a rare feat in an academic work."
— Criminal Law and Criminal Justice Books

"Kupers, a forensic psychologist, is one of the nation's foremost experts on solitary confinement. His book is a timely and important contribution to the field. Kupers has toured dozens of  'supermax' prisons and given expert testimony in over 40 cases on conditions of confinement and its effects on mental health. His experiences observing prisons and interviewing prisoners subjected to solitary confinement have given rise to this book, an effort to expose the many serious problems associated with solitary confinement, and to abolish it." 

— Choice

"With this conclusion, Kupers leaves readers with tools not only to argue against the ineffective supermax prison, but also to continue dismantling the prison industrial complex."
— Matthew Byrne

"Solitary probably won't be read by many prisoners. It could enlighten 'correctional officers,' to use another euphemism, and it ought to be read by students and teachers in college departments that are supposed to teach 'Criminal Justice.' In its way, Solitary is as powerful, as important and as compelling a book as Michelle Alexander's The New Jim Crow, which shows how the 'criminal injustice system' discriminates against African Americans, violates their basic human rights and treats them as twentieth-century slaves. Terry Allen Kupers affirms his own humanity and the humanity of the millions of Americans locked up in prisons from California to New York and Florida to the State of Washington. We may not be inside, but the shadow of the prison falls on every one of us, no matter where we live and work.'" 

— HuffPost

"A highly readable account of the history of isolation, the use of solitary confinement today, the damage it causes and the unique impact of segregation on minorities, women and juveniles. Dr. Kupers illustrates the dehumanizing and inhumane nature of solitary through the experiences of prisoners who have been subjected to that practice. The abuse heaped on the men, women and children he has interviewed is shocking, and their stories will anger readers. . . . Dr. Kupers' book should be required reading for all corrections professionals and lawmakers."
— Prison Legal News

This book is very informative and readable.... [For] corrections administrators, prison scholars, and students—both undergraduate and graduate.
— Criminal Justice Review
University of California Press, 9780520292239, 304pp.
Publication Date: September 5, 2017
About the Author
Terry Allen Kupers is an award-winning psychiatrist and Professor Emeritus at The Wright Institute Graduate School of Psychology.  As one of the nation's foremost experts on the mental health effects of solitary confinement, he has testified in over two dozen class action lawsuits about jail and prison conditions, the quality of mental health care "inside" and the effects of sexual abuse behind bars.  He is a frequent consultant to the ACLU's National Prison Project and Human Rights Watch and the author of Prison Madness.