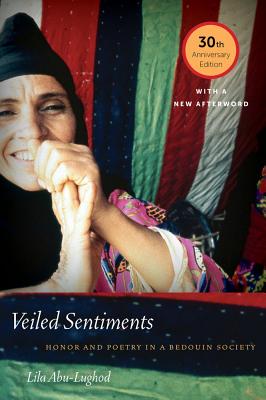 Veiled Sentiments (Paperback)
Honor and Poetry in a Bedouin Society
University of California Press, 9780520292499, 384pp.
Publication Date: September 6, 2016
* Individual store prices may vary.
Description
First published in 1986, Lila Abu-Lughod's Veiled Sentiments has become a classic ethnography in the field of anthropology. During the late 1970s and early 1980s, Abu-Lughod lived with a community of Bedouins in the Western Desert of Egypt for nearly two years, studying gender relations, morality, and the oral lyric poetry through which women and young men express personal feelings. The poems are haunting, the evocation of emotional life vivid. But Abu-Lughod's analysis also reveals how deeply implicated poetry and sentiment are in the play of power and the maintenance of social hierarchy. What begins as a puzzle about a single poetic genre becomes a reflection on the politics of sentiment and the complexity of culture.
 
This thirtieth anniversary edition includes a new afterword that reflects on developments both in anthropology and in the lives of this community of Awlad 'Ali Bedouins, who find themselves increasingly enmeshed in national political and social formations. The afterword ends with a personal meditation on the meaning—for all involved—of the radical experience of anthropological fieldwork and the responsibilities it entails for ethnographers.
About the Author
Lila Abu-Lughod is Joseph L. Buttenwieser Professor of Social Science at Columbia University, where she teaches anthropology and gender studies. She is the author of Writing Women's Worlds: Bedouin Stories, Dramas of Nationhood: The Politics of Television in Egypt, and Do Muslim Women Need Saving?
Praise For Veiled Sentiments: Honor and Poetry in a Bedouin Society…
"...a foundational text for the subfields of literary anthropology and the anthropology of women in the Middle East."
— Journal of Anthropological Research
"...Veiled Sentiments is an excellent study, thorough, meticulous, and stimulating, of the highly complex social system of these tribes, with particular emphasis on male-female relationships and on the intriguing, often paradoxical roles played by men and women to preserve this system."
— Arab Studies Quarterly
"This book is a beautiful account of a lifetime of shared 'ishra or moments between Abu-Lughod and the Awald 'Ali Bedouins. Anthropology often looks at "the other", but by representing the emotional dialectics between the informant and the researcher over time, what this book reveals is the impact fieldwork has on the anthropologist."
— Journal of the Anthropological Society of Oxford
"The republication makes an important classic study better available for new generations of readers and offers some new material for those already familiar with it, as well as providing the author's own commentary on her earlier work."
— Islam and Christian–Muslim Relations