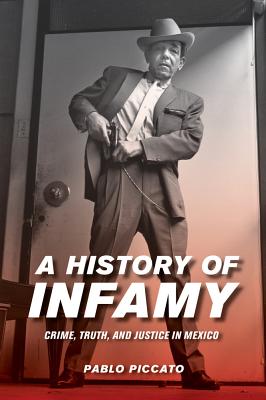 A History of Infamy
Crime, Truth, and Justice in Mexico (Violence in Latin American History #4)
Paperback

* Individual store prices may vary.
Other Editions of This Title:
Hardcover (4/25/2017)
Description
A History of Infamy explores the broken nexus between crime, justice, and truth in mid-twentieth-century Mexico. Faced with the violence and impunity that defined politics, policing, and the judicial system in post-revolutionary times, Mexicans sought truth and justice outside state institutions. During this period, criminal news and crime fiction flourished. Civil society's search for truth and justice led, paradoxically, to the normalization of extrajudicial violence and neglect of the rights of victims. As Pablo Piccato demonstrates, ordinary people in Mexico have made crime and punishment central concerns of the public sphere during the last century, and in doing so have shaped crime and violence in our times.
Praise For A History of Infamy: Crime, Truth, and Justice in Mexico (Violence in Latin American History #4)…
"A History of Infamy makes two significant contributions to the historiography of modern Mexico: 1) that impunity was not an obstacle to modernization; and 2) that the state only punished those who did not have the means to circumvent justice (263). In shifting the gaze towards how people of the past debated and processed these realities in the public sphere, Piccato reminds us that Mexicans have been confronting and challenging authority for more than a century. He has also shown us that there is a redemptive quality in understanding the past in order to come to terms with the challenging present. This book is a must read for scholars of Latin America, but will surely be of interest to those studying crime and punishment, literature, the press, and political violence."
— Journal of Social History

"By being the first to historicize the social processes that sustain and constrain truth claims, Piccato joins numerous scholars in dispelling the myth that Mexico is inherently violent."
— Latin American Research Review
University of California Press, 9780520292628, 368pp.
Publication Date: April 25, 2017
About the Author
Pablo Piccato teaches Latin American history at Columbia University. He studied at the Universidad Nacional Autónoma de México and the University of Texas at Austin. His books include City of Suspects: Crime in Mexico City, 1900–1931 and The Tyranny of Opinion: Honor and the Construction of the Mexican Public Sphere.