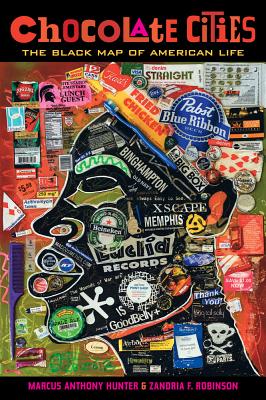 Chocolate Cities
The Black Map of American Life
Paperback

* Individual store prices may vary.
Other Editions of This Title:
Hardcover (1/16/2018)
Description
From Central District Seattle to Harlem to Holly Springs, Black people have built a dynamic network of cities and towns where Black culture is maintained, created, and defended. But imagine—what if current maps of Black life are wrong? Chocolate Cities offers a refreshing and persuasive rendering of the United States—a "Black map" that more accurately reflects the lived experiences and the future of Black life in America. Drawing on film, fiction, music, and oral history, Marcus Anthony Hunter and Zandria F. Robinson trace the Black American experience of race, place, and liberation, mapping it from Emancipation to now. As the United States moves toward a majority minority society, Chocolate Cities provides a provocative, broad, and necessary assessment of how racial and ethnic minorities make and change America's social, economic, and political landscape.

Praise For Chocolate Cities: The Black Map of American Life…
"A very smart new book by two culturally agile sociologists. . . .  While Chocolate Cities is a story of inventive adaption, fierce survival and Black joy, it is also a history of trauma and communities under siege. This book stands as a witness to the investment of struggle, skill and resources it has taken to build and sustain chocolate cities. It is also a testament to the criminal failure of America to see and honor these essential points on the map."
— Kalamazoo College/Praxus Center

"If Chocolate Cities were itself made of chocolate, it would come in a variety of forms: the central theses of the book like unsweetened cacao nibs, true and deep-flavored, long-lasting, challenging, surprising. Census data as chocolate bar, scored into bite-size forms. Musical references like the aroma of chocolate, wafting through the room. And the personal stories Robinson and Hunter delve into are multi-layered, well-baked undertakings." 
— Memphis: The City Magazine

"Hunter and Robinson have set out a marker for thinking differently about black people in urban America."
— PopMatters

"Hunter and Robinson offer an insight into the ways black folks have eked out a social world regardless of the racism, segregation, and brutality often concomitant in cities across the North American experience. ... For undergraduates, graduates, and any lay reader interested in black life in the US."
— CHOICE

"A tour de force. Hunter and Robinson work assiduously and effectively to help readers to think about how seemingly disconnected ideas, themes, and practices should be understood together. The book paints a portrait of the complexity of black life, culture, politics, and interests."
— American Journal of Sociology

"Chocolate Cities offers a critical contribution to urban sociology through its refreshing approach to the cultural geography of Black life. . . . Chocolate Cities makes compelling theoretical arguments that encourage scholars and practitioners to rethink the relationship between race, racism, culture, and space."
— City & Community

"Hunter and Robinson's Chocolate Cities gives sociology a needed shaking up and will influence the discipline for years to come. By putting Black agency at the center of their epistemology, Hunter and Robinson's Chocolate Cities cuts across and shapes multiple sociological microcosms."
— Sociology of Race and Ethnicity

"Good books enlighten and educate. Great books mess up your mind. Good books deepen many a field of study. Great books blow holes in many fields of study. Good books deliver a line of argument. Great books reframe and problematize a line of argument. Good books help you settle down and furnish your intellectual home. Great books set you wandering and teach you that you are homeless. Good books bring insight. Great books bring the funk. I could go on with this list of contrasts between good and great. Yes, Marcus Anthony Hunter and Zandria F. Robinson' s Chocolate Cities: The Black Map of American Life  is a great book, yes it messed up my mind, and yes it does all those things great books do."
— Ethnic and Racial Studies
University of California Press, 9780520292833, 312pp.
Publication Date: January 16, 2018
About the Author
Marcus Anthony Hunter is Chair of the Department of African American Studies, Associate Professor of Sociology, and he holds the Scott Waugh Endowed Chair in the Division of the Social Sciences at the University of California, Los Angeles. He is the author of Black Citymakers: How the Philadelphia Negro Changed Urban America and the president of the Association of Black Sociologists. Zandria F. Robinson is Associate Professor in Rhodes College's Department of Sociology and Anthropology. She is the author of This Ain't Chicago: Race, Class, and Regional Identity in the Post-Soul South and coeditor of Repositioning Race: Prophetic Research in a Postracial Obama Age.