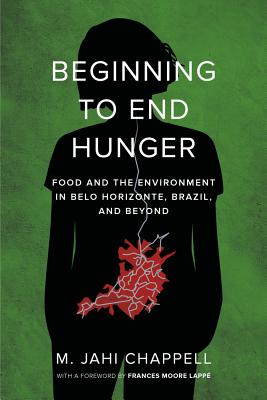 Beginning to End Hunger (Paperback)
Food and the Environment in Belo Horizonte, Brazil, and Beyond
University of California Press, 9780520293090, 272pp.
Publication Date: January 19, 2018
Other Editions of This Title:
Hardcover (1/19/2018)
* Individual store prices may vary.
Description
Beginning to End Hunger
presents the story of Belo Horizonte, home to 2.5 million people and the site of one of the world's most successful food security programs. Since its Municipal Secretariat of Food and Nutritional Security was founded in 1993, Belo Horizonte has sharply reduced malnutrition, leading it to serve as an inspiration for Brazil's renowned Zero Hunger programs. The secretariat's work with local family farmers shows how food security, rural livelihoods, and healthy ecosystems can be supported together. In this convincing case study, M. Jahi Chappell establishes the importance of holistic approaches to food security, suggests how to design successful policies to end hunger, and lays out strategies for enacting policy change. With these tools, we can take the next steps toward achieving similar reductions in hunger and food insecurity elsewhere in the developed and developing worlds.
Learn more about Jahi and his work on his
personal website
.
About the Author
M. Jahi Chappell is a political agroecologist with training in ecology and evolutionary biology, science and technology studies, and chemical engineering. He is a Senior Research Fellow at the Centre for Agroecology, Water and Resilience (CAWR) at Coventry University, a Fellow of FoodFirst/the Institute for Food and Development Policy, and an Adjunct Faculty member of the School of the Environment at Washington State University.

Praise For Beginning to End Hunger: Food and the Environment in Belo Horizonte, Brazil, and Beyond…
"It is tempting for socialists to argue simply that the problem is capitalism and that only a socialist, post-capitalist world can feed the world's population healthily and sustainably. M. Jahi Chappell's important study shows that this is wrong."
— Climate and Capitalism
"M. Jahi Chappell provides a necessary antidote to those who claim hunger cannot be alleviated."
— The Journal of Peasant Studies
"This is a very good book that I imagine will (and should) be adopted for use in a number of upper level undergraduate or graduate classes in the social sciences or interdisciplinary fields such as development studies, environmental studies, and food studies. I have just begun to use the text with my own students this semester and more than a few have remarked on how nice it is to have a relatively positive story as compared to the critiques and narratives of failure they often encounter in the social sciences."
— American Association of Geographers Review of Books