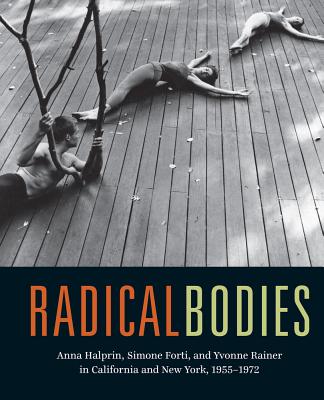 Radical Bodies (Hardcover)
Anna Halprin, Simone Forti, and Yvonne Rainer in California and New York, 1955-1972
University of California Press, 9780520293366, 192pp.
Publication Date: December 6, 2016
* Individual store prices may vary.
Description
In August 1960, Anna Halprin taught an experimental workshop attended by Simone Forti and Yvonne Rainer (along with Trisha Brown and other soon-to-be important artists) on her dance deck on the slopes of Mount Tamalpais, north of San Francisco. Within two years, Forti's conceptually forceful Dance Constructions had premiered in Yoko Ono's loft and Rainer had cofounded the groundbreaking Judson Dance Theater. Radical Bodies reunites Halprin, Forti, and Rainer for the first time inmore than fifty-five years.
 
Dance was a fundamental part of the art world in the 1960s, the most volatile decade in American art, offering a radical image of bodily presence in a moment of revolutionary change.  Halprin, Forti, and Rainer—all with Jewish roots—found themselves at the epicenter of this upheaval. Each, in her own tenacious, humorous, and critical way, created a radicalized vision for dance, dance making, and, ultimately, for music and the visual arts. Placing the body and performance at the center of debate, each developed corporeal languages and methodologies that continue to influence choreographers and visual artists around the world to the present day, enabling a critical practice that reinserts social and political issues into postmodern dance and art.

Published in association with the Art, Design & Architecture Museum, University of California, Santa Barbara.

Exhibition dates:
Art, Design & Architecture Museum, University of California, Santa Barbara: January 17–April 30, 2017
New York Public Library for the Performing Arts: May 24–September 16, 2017

Events:
Pillowtalks, Jacob's Pillow, Becket, MA: July 1, 2017
About the Author
Ninotchka D. Bennahum is a professor of dance history/theory/performance studies in the Department of Theater and Dance at the University of California, Santa Barbara. She is the author of Antonia Mercé, La Argentina: Flamenco and the Spanish Avant Garde and Carmen: a Gypsy Geography.

Wendy Perron, author of Through the Eyes of a Dancer, danced with Trisha Brown in the 1970s and choreographed more than forty works for her own group from the 1970s to the 1990s. Former longtime editor in chief of Dance Magazine, she now writes for Dance Europe and teaches at NYU Tisch School for the Arts.
 
Bruce Robertson is a professor in the history of art and architectureand director of the Art, Design, & Architecture Museum, University of California, Santa Barbara. He has published books and curated exhibitions across a wide range of topics, from the sixteenth century to the present.
Praise For Radical Bodies: Anna Halprin, Simone Forti, and Yvonne Rainer in California and New York, 1955-1972…
"...[an] attractive, large-format volume [that] gives props to 96-year-old Anna Halprin."
— The Village Voice
"Through photos, objects and rare footage [featured in the book], the experiments on Ms. Halprin's deck are revealed to be crucial to the Judson revolution and so much that has happened since in New York postmodern dance."
— New York Times
"The book significantly revisit[s] the body of the sixties as a living and breathing resource of inspiration, complexity, and revolution."
— The Woman's Art Journal
"More than an exhibition catalogue, the text, populated by images of the exhibit's artifacts, offers an absorptive record that celebrates Halprin, Forti, and Rainer's historical oeuvres. While maintaining a critical, discursive perspective, especially in the three grounding essays by the book's editors, the text additionally weaves together artist writings, critical reflection, and personal anecdotes by Forti, John Rockwell, and Morton Subotnick. These supplementary pieces invite the voices of the artist, critic, and collaborator, respectively, giving the book a diverse stylistic ethos that performatively addresses the intangible aspects of its subjects: the body, performance, and time-based materials."
— The Drama Review
"This catalog brings new insights into the essential and world-changing new ideas on art making that these three women ignited and nurtured and continue to do so—all three remain active in the dance world."
— Journal of Dance Education
"The book is punctuated with visuals: performance photos, film stills, rehearsal notes, manuscripts, drawings, and improvisational scores. The visual organization asks its reader to engage with Halprin, Forti, and Rainer's radical bodies through images of them in motion and written representations of their work." 
— PAJ: A Journal of Performance and Art