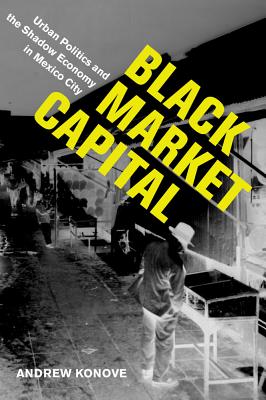 Black Market Capital
Urban Politics and the Shadow Economy in Mexico City
Paperback

* Individual store prices may vary.
Other Editions of This Title:
Hardcover (5/25/2018)
Description
In this extraordinary new book, Andrew Konove traces the history of illicit commerce in Mexico City from the seventeenth century to the twentieth, showing how it became central to the economic and political life of the city. The story centers on the untold history of the Baratillo, the city's infamous thieves' market. Originating in the colonial-era Plaza Mayor, the Baratillo moved to the neighborhood of Tepito in the early twentieth century, where it grew into one of the world's largest emporiums for black-market goods. Konove uncovers the far-reaching ties between vendors in the Baratillo and political and mercantile elites in Mexico City, revealing the surprising clout of vendors who trafficked in the shadow economy and the diverse individuals who benefited from their trade.
Praise For Black Market Capital: Urban Politics and the Shadow Economy in Mexico City…
"In this study of 'illicit commerce' in Mexico City between the seventeenth and twentieth centuries, Konove focuses on the development and functioning of Baratillo, 'the city's infamous thieves' market'. He claims that the vendors in this market have long enjoyed ties with the capital's political and mercantile elites."
— Survival: Global Politics and Strategy

"Black Market Capital offers a number of contributions to our understanding of urban life in Mexico. . . . challenges some commonly held historical interpretations of Mexican and Latin American history."
— Journal of Interdisciplinary History

"In this engaging and important book, Konove analyzes and historicizes the significance of the Baratillo, a street marketplace whose history spans back to the pre-Columbian past. . . . Black Market Capital is a significant and creative contribution to the growing historiography on crime in Mexico. While historians engage the importance of place, Konove makes the public market, a few side streets, and its stalls central to modern Mexican political, social, and economic history."
— Hispanic American Historical Review
University of California Press, 9780520293687, 304pp.
Publication Date: May 25, 2018
About the Author
Andrew Konove is Assistant Professor of History at the University of Texas at San Antonio.