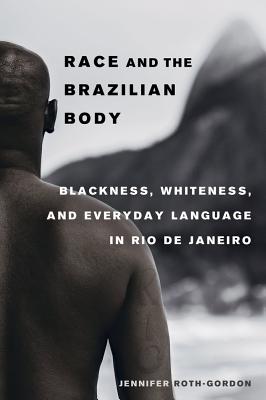 Race and the Brazilian Body
Blackness, Whiteness, and Everyday Language in Rio de Janeiro
Paperback

* Individual store prices may vary.
Other Editions of This Title:
Hardcover (12/20/2016)
Description
Based on spontaneous conversations of shantytown youth hanging out on the streets of their neighborhoods and interviews from the comfortable living rooms of the middle class, Jennifer Roth-Gordon shows how racial ideas permeate the daily lives of Rio de Janeiro's residents across race and class lines. Race and the Brazilian Body weaves together the experiences of these two groups to explore what the author calls Brazil's "comfortable racial contradiction," where embedded structural racism that privileges whiteness exists alongside a deeply held pride in the country's history of racial mixture and lack of overt racial conflict. This linguistic and ethnographic account describes how cariocas (people who live in Rio de Janeiro) "read" the body for racial signs. The amount of whiteness or blackness a body displays is determined not only through observations of phenotypical features—including skin color, hair texture, and facial features—but also through careful attention paid to cultural and linguistic practices, including the use of nonstandard speech commonly described as gíria (slang).
 
Vivid scenes from daily interactions illustrate how implicit social and racial imperatives encourage individuals to invest in and display whiteness (by demonstrating a "good appearance"), avoid blackness (a preference challenged by rappers and hip-hop fans), and "be cordial" (by not noticing racial differences). Roth-Gordon suggests that it is through this unspoken racial etiquette that Rio residents determine who belongs on the world famous beaches of Copacabana, Ipanema, and Leblon; who deserves to shop in privatized, carefully guarded, air conditioned shopping malls; and who merits the rights of citizenship.
Praise For Race and the Brazilian Body: Blackness, Whiteness, and Everyday Language in Rio de Janeiro…
"By highlighting new challenges and forms of resistance to racist ideologies, Roth-Gordon makes an outstanding contribution to a global dialogue on race that illustrates the hegemonic forces at play that maintain racial inequalities."
— American Ethnologist

"Although decades of ink have already been spilled on the still contentious issue of racism in Brazil (and Latin America more broadly), Roth-
Gordon's book points to fruitful areas for future research."
— Anthropological Quarterly

" A must-read for scholars studying race and politics in Brazil."
— Journal of Anthropological Research

"Roth-Gordon offers important in-sights in fewer than two hundred pages of clearly articulated text. . .the book is a rare pedagogical gem."
— General Anthropology

"A remarkably accessible book that will be of great interest to scholars of race in Latin America who wish to incorporate an attention to language and practice to theirown work. The book' s clear explanations of how the research was organized and executed likewise make it an excellent teaching tool for undergraduates and graduate students."
— Journal of Latin American Studies

"[Roth-Gordon] presents [her findings] in an accessible narrative that would provide compelling reading for an undergraduate course on race or Brazil and might help us all better understand why famously 'cordial' Brazilians recently elected an uncordially racist president."
— Latin American Research Review
University of California Press, 9780520293809, 248pp.
Publication Date: December 20, 2016
About the Author
Jennifer Roth-Gordon is Associate Professor of Anthropology at the University of Arizona.