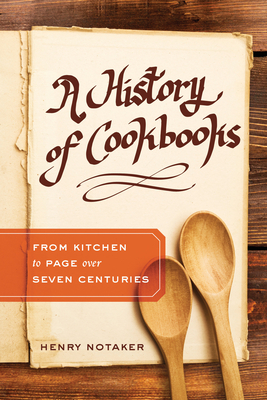 A History of Cookbooks
From Kitchen to Page over Seven Centuries (California Studies in Food and Culture #64)
Hardcover

* Individual store prices may vary.
Description
A History of Cookbooks provides a sweeping literary and historical overview of the cookbook genre, exploring its development as a part of food culture beginning in the Late Middle Ages. Studying cookbooks from various Western cultures and languages, Henry Notaker traces the transformation of recipes from brief notes with ingredients into detailed recipes with a specific structure, grammar, and vocabulary. In addition, he reveals that cookbooks go far beyond offering recipes: they tell us a great deal about nutrition, morals, manners, history, and menus while often providing entertaining reflections and commentaries. This innovative book demonstrates that cookbooks represent an interesting and important branch of nonfiction literature.
Praise For A History of Cookbooks: From Kitchen to Page over Seven Centuries (California Studies in Food and Culture #64)…
"Notaker's impressive work of research calls for cookbooks to be read and valued the same as literature . . . . A History of Cookbooks also serves up a wonderful history of publishing, since that first printed Italian cookbook coincides with the advent of Gutenberg's press"
— Print Magazine

"This stirring work will enhance our engagement with the kitchens of our ancestors."
— Times Literary Supplement

"A complex and dense read, and the author is to be complimented on maintaining clarity throughout. For the food historian it is a useful reminder that cookbooks have scope beyond that of mere instruction, and for the literary historian it highlights the complexities that underlie apparently simple manuals. It is a book for serious students of both fields."
— Petits Propos Culinaires

"It is the work of a polyglot, a researcher passionate about his subject, and an indefatigable reader. . . . Henry Notaker's work is a reference book worth having in any good library."
— Agricultural, Food and Environmental Studies

"Well-argued and researched work, taking a new and intriguing approach to a popular subject."
— CHOICE

"...a dense but well-argued and researched work, taking a new and intriguing approach to a popular subject."
— CHOICE
University of California Press, 9780520294004, 400pp.
Publication Date: September 5, 2017
About the Author
Henry Notaker is a literary historian who taught courses in food culture and history for over a decade. He was a foreign correspondent for the Norwegian Broadcasting Corporation and a TV host of arts and letters shows and documentaries. He is the author of numerous books and articles on European and Latin American contemporary history, food history, and culinary literature.