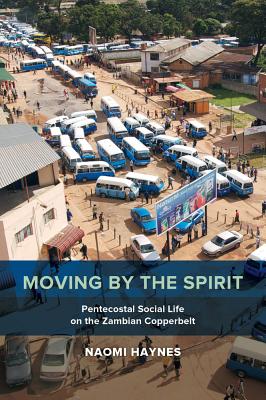 Moving by the Spirit (Paperback)
Pentecostal Social Life on the Zambian Copperbelt (The Anthropology of Christianity #22)
University of California Press, 9780520294257, 224pp.
Publication Date: March 28, 2017
Other Editions of This Title:
Hardcover (3/28/2017)
* Individual store prices may vary.
Description
Drawing on two years of ethnographic research, Naomi Haynes explores Pentecostal Christianity in the kind of community where it often flourishes: a densely populated neighborhood in the heart of an extraction economy. On the Zambian Copperbelt, Pentecostal adherence embeds believers in relationships that help them to "move" and progress in life. These efforts give Copperbelt Pentecostalism its particular local character, shaping ritual practice, gender dynamics, and church economics. Focusing on the promises and problems that Pentecostalism presents, Moving by the Spirit highlights this religion's role in making life possible in structurally adjusted Africa.
About the Author
Naomi Haynes is a Chancellor's Fellow and Lecturer in Social Anthropology at the University of Edinburgh. She is coeditor of the Current Anthropology special issue The Anthropology of Christianity: Unity, Diversity, New Directions and of the Social Analysis special issue Hierarchy, Values, and the Value of Hierarchy.  She is also co-curator of the Anthropology of Christianity Bibliographic Blog at www.anthrocybib.net.
Praise For Moving by the Spirit: Pentecostal Social Life on the Zambian Copperbelt (The Anthropology of Christianity #22)…
"Naomi Haynes provides a compelling ethnographic study of the centrality of Pentecostal Christianity in contemporary Zambia... Haynes' attention to certain socially productive elements of Pentecostalism allows her to dig deep into her ethnographic material and to detail what animates the everyday, interpersonal relationships at the core of Pentecostal Christian communities on the Zambian Copperbelt."
— AllegraLab
"It is a testament to the strengths of this book that it generates such questions, that it opens these and other avenues for further research. Breaking new ground in the study of religious life and social change, Moving by the Spirit should be read by all Africanists whose research and teaching engage such themes."
— African Studies Review