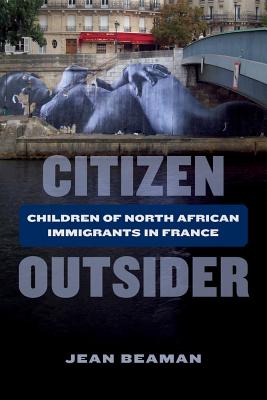 Citizen Outsider
Children of North African Immigrants in France
Paperback

* Individual store prices may vary.
Description
A free ebook version of this title will be available through Luminos, University of California Press's Open Access publishing program. Visit www.luminosoa.org to learn more.

While portrayals of immigrants and their descendants in France and throughout Europe often center on burning cars and radical Islam, Citizen Outsider: Children of North African Immigrants in France paints a different picture. Through fieldwork and interviews in Paris and its banlieues, Jean Beaman examines middle-class and upwardly mobile children of Maghrébin, or North African immigrants. By showing how these individuals are denied cultural citizenship because of their North African origin, she puts to rest the notion of a French exceptionalism regarding cultural difference, race, and ethnicity and further centers race and ethnicity as crucial for understanding marginalization in French society.
Praise For Citizen Outsider: Children of North African Immigrants in France…
"Written in a straightforward and engaging style, ... ideal, not only for specialists of race and (im)migration in France and beyond, but also as a teaching tool for upper level undergraduate students."
— Ethnic and Racial Studies

"Offers a critical examination of a so-called colorblind society. A solid addition to courses on race, immigration, citizenship, or French studies."
— Migration Studies Review

"A compelling case study for very real challenges facing France today."
— Sociology of Race and Ethnicity

"Both the empirical evidence and the theoretical frameworks that Beaman employs make important contributions to political and scholarly debates over race and immigration in France."
— City and Community

"Beaman offers a rich and stringent critique of the continued marginalization of French citizens deemed "outsiders" due
to their race or ethnicity. ... This book is an excellent case study of race and immigration in France, suitable for scholars of race and ethnicity, and particularly well-suited for senior undergraduate students."
— American Journal of Sociology

"I highly recommend this monograph for classroom use in an upper-division undergraduate course in race-ethnicity or in a graduate-level seminar in race-ethnicity or stratification. I recommend this book to those who want a nuanced understanding of how immigration, ethnicity, race, and culture frame social inclusion for visible minorities in France today. Read this book cover to cover. Beaman delivers a sophisticated yet accessible comprehension of why the children of North African immigrants in France grow up to be citizen outsiders."
— Social Forces

"A methodologically sound, illuminating text that contributes to the literature on both immigration and the formation of racial theories at the global level."
— Teaching Sociology

"A well-crafted intervention, Citizen Outsider complicates discourses surrounding assimilation, integration, and European racial politics. . . . Discussions of migration sometimes shy away from explicitly naming the racist exclusionary practices which underpin the nation state, here Beaman triumphs by entirely centring the topic."
— European Journal of Cultural and Political Sociology
University of California Press, 9780520294264, 168pp.
Publication Date: September 12, 2017
About the Author
Jean Beaman is Assistant Professor of Sociology at University of California, Santa Barbara.