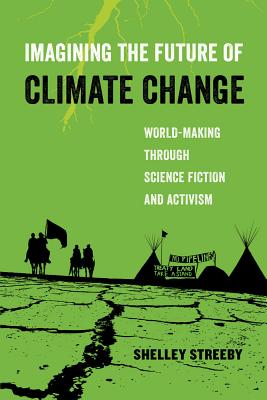 Imagining the Future of Climate Change
World-Making through Science Fiction and Activism (American Studies Now: Critical Histories of the Present #5)
Paperback

* Individual store prices may vary.
Other Editions of This Title:
Hardcover (1/31/2018)
Description
From the 1960s to the present, activists, artists, and science fiction writers have imagined the consequences of climate change and its impacts on our future. Authors such as Octavia Butler and Leslie Marmon Silko, movie directors such as Bong Joon-Ho, and creators of digital media such as the makers of the Maori web series Anamata Future News have all envisioned future worlds during and after environmental collapse, engaging audiences to think about the earth's sustainability. As public awareness of climate change has grown, so has the popularity of works of climate fiction that connect science with activism.

Today, real-world social movements helmed by Indigenous people and people of color are leading the way against the greatest threat to our environment: the fossil fuel industry. Their stories and movements—in the real world and through science fiction—help us all better understand the relationship between activism and culture, and how both can be valuable tools in creating our future. Imagining the Future of Climate Change introduces readers to the history and most significant flashpoints in climate justice through speculative fictions and social movements, exploring post-disaster possibilities and the art of world-making.
Praise For Imagining the Future of Climate Change: World-Making through Science Fiction and Activism (American Studies Now: Critical Histories of the Present #5)…
"Incredibly well-researched and notably conversant with the intricacies of both key sf writing and activism from the inception of environmentalism movements and their related speculative contemplations to those in the present day, Streeby's Imagining the Future of Climate Change is an indispensable text in working to turn the dystopian now toward more positive and inclusive means of fostering world community-building as we labor together to engage with the climate future we have wrought."
— Science Fiction Studies
"A unique and necessary book that bridges the too often too distant spheres of environmental activism and SF scholarship."
— Fafnir: Nordic Journal of Science Fiction and Fantasy Research
University of California Press, 9780520294455, 168pp.
Publication Date: January 31, 2018
About the Author
Shelley Streeby is Professor of Literature and Ethnic Studies at the University of California, San Diego, and Director of the Clarion Science Fiction and Fantasy Writers' Workshop. She is the author of Radical Sensations and American Sensations and a coeditor of Empire and the Literature of Sensation.