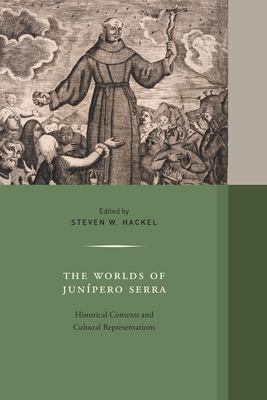 The Worlds of Junipero Serra (Hardcover)
Historical Contexts and Cultural Representations (Western Histories #10)
University of California Press, 9780520295391, 292pp.
Publication Date: February 23, 2018
* Individual store prices may vary.
Description
As one of America's most important missionaries, Junípero Serra is widely recognized as the founding father of California's missions.  It was for that work that he was canonized in 2015 by Pope Francis.  Less well known, however, is the degree to which Junípero Serra embodied the social, religious and artistic currents that shaped Spain and Mexico across the 18th century. Further, Serra's reception in American culture in the 19th and 20th centuries has often been obscured by the controversies surrounding his treatment of California's Indians. This volume situates Serra in the larger Spanish and Mexican contexts within which he lived, learned, and came of age. Offering a rare glimpse into Serra's life, these essays capture the full complexity of cultural trends and developments that paved the way for this powerful missionary to become not only California's most polarizing historical figure but also North America's first Spanish colonial saint.
About the Author
Steven W. Hackel is Professor of History at the University of California, Riverside and the author of Junipero Serra: California's Founding Father, Alta California, and Children of Coyote.
Praise For The Worlds of Junipero Serra: Historical Contexts and Cultural Representations (Western Histories #10)…
"Hackel has put together an intelligent collection of essays that explores the historical worlds that created Serra and illuminates the contested representations of him. The collection is emphatically multidisciplinary . . . And it is decidedly global, both in the contexts in which it considers Serra and in its contributors.
— The Journal of American History
"The Worlds of Juni ´pero Serra engages an academic and political landscape in which questions of colonial inheritance, national identity, immigration, and indigeneity have become increasingly fraught. Editor Steven W. Hackel evokes three contemporary moments that frame this collected volume: the 2013 tercentennial of Juni ´pero Serra's birth, which inspired this project; Serra's contentious canonization in 2015; and the anti-Latinx and Trumpian fervor that grips political and historical discourse in the United States today."
— Hispanic American Historical Review
"The essays in this volume each contribute to an appreciation of Serra, particularly in his own time and on his own terms."
— Catholic Southwest: A Journal of History and Culture