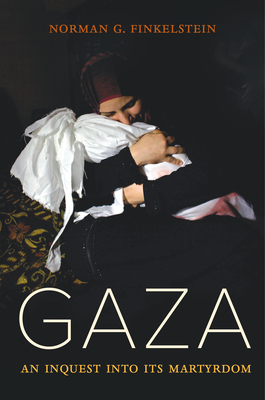 Gaza (Hardcover)
An Inquest into Its Martyrdom
University of California Press, 9780520295711, 440pp.
Publication Date: January 9, 2018
* Individual store prices may vary.
Description
"No one who ventures an opinion on Gaza . . . is entitled to do so without taking into account the evidence in this book."
—The Intercept
The Gaza Strip is among the most densely populated places in the world. More than two-thirds of its inhabitants are refugees, and more than half are under eighteen years of age. Since 2004, Israel has launched eight devastating "operations" against Gaza's largely defenseless population. Thousands have perished, and tens of thousands have been left homeless. In the meantime, Israel has subjected Gaza to a merciless illegal blockade.
 
What has befallen Gaza is a man-made humanitarian disaster.
 
Based on scores of human rights reports, Norman G. Finkelstein's new book presents a meticulously researched inquest into Gaza's martyrdom. He shows that although Israel has justified its assaults in the name of self-defense, in fact these actions constituted flagrant violations of international law.
 
But Finkelstein also documents that the guardians of international law—from Amnesty International and Human Rights Watch to the UN Human Rights Council—ultimately failed Gaza. One of his most disturbing conclusions is that, after Judge Richard Goldstone's humiliating retraction of his UN report, human rights organizations succumbed to the Israeli juggernaut.

Finkelstein's magnum opus is both a monument to Gaza's martyrs and an act of resistance against the forgetfulness of history.
About the Author
Norman G. Finkelstein received his doctorate from the Princeton University Department of Politics. His many books have been translated into some fifty foreign editions. He is a frequent lecturer and commentator on the Israel-Palestine conflict.
Praise For Gaza: An Inquest into Its Martyrdom…
"No one who ventures an opinion on Gaza . . . is entitled to do so without taking into account the evidence in this book. For that, at least, the people of Gaza owe a debt to Norman Finkelstein."
— Charles Glass
"Readers with fixed positions, either in agreement or disagreement with Finkelstein, will find much to engage with here." 
"Norman Finkelstein has the moral gravity of an Old Testament prophet, the scrupulous attention to detail of a Talmudic scholar, and the mordant sense of humor of a Yiddish novelist. All these attributes are on display in Gaza: An Inquest Into its Martyrdom. . . . The cumulative impact of Finkelstein's meticulously-documented 408-page chronicle is devastating, and it will leave the reader stunned that the worldwide reaction is so muted."
"An extraordinary book."
"Anyone who chooses to read 'Gaza: An Inquest into its Martyrdom' bears witness to the harrowing Truth and preserves it in the collective memory."
"A meticulous 440-page study of international law, of Israel's sustained attacks against Gaza and its people and offers what may well be the definitive history of one of the most horrifying and sustained campaigns of collective punishment in modern world history."  
— Jeremy Scahill