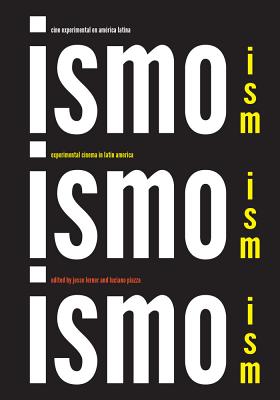 Ism, Ism, Ism / Ismo, Ismo, Ismo
Experimental Cinema in Latin America
Paperback

* Individual store prices may vary.
Description
Ism, Ism, Ism / Ismo, Ismo, Ismo is the first comprehensive, United States–based film program and catalogue to treat the full breadth of Latin America's vibrant experimental film production. The exhibition features key historical and contemporary films from Argentina, Brazil, Bolivia, Chile, Colombia, Cuba, Ecuador, Mexico, Paraguay, Peru, Uruguay, Venezuela, Puerto Rico and the United States. From innovative works by Brazilian artist Hélio Oiticica and Mexican photographer Manuel Álvarez Bravo to the breathtaking yet practically unknown ouevre of queer Ecuadorian filmmaker Eduardo Solá Franco, the exhibition takes both the aficionado and the open-minded viewer on a journey into a wealth of materials culled from the forgotten corners of Latin American film archives. Equally unprecedented in its approach and scope, the accompanying fully bilingual catalogue features major scholars and artists working across nationalities, mediums, and time periods. Lerner and Piazza assemble a mix of original content authored by key curators, scholars, and archivists from Latin America: eighteen essays and articles translated for the first time pertaining to the history of Latin American experimental film, historical image-documents that are fundamental to the history of experimental film in Latin America, and program notes from the exhibition's programs. The collection is an invaluable resource for scholars, curators, artists and others interested in the history of Latin America, modern art, experimental and avant garde film, political and Third Cinema, and other noncommercial cinemas.
 
Published in association with the Los Angeles Filmforum, and as part of the Getty's Pacific Standard Time: LA/LA.
Praise For Ism, Ism, Ism / Ismo, Ismo, Ismo: Experimental Cinema in Latin America…
"We like Ismo, Ismo, Ismo because it penetrates an imaginary island where different creative latitudes fit: in pocket constellations and cinitos made up of those small and liberating formats that are 8mm and Super 8; in appropriations of hegemonic images that play to derail; in frames animated by a cinema without a camera, in refractory stories of so many identities that it helps to give visibility. Origins, advances, losses. Ismo, Ismo, Ismo has the power to recover what has been forgotten through fragments with which it configures a polyhedral memory. Better look through that prism."
— Found Footage Magazine
University of California Press, 9780520296084, 408pp.
Publication Date: October 10, 2017
About the Author
Jesse Lerner is a filmmaker, curator, and writer living in Los Angeles. He teaches in the Intercollegiate Media Studies program at the Claremont Colleges.
 
Luciano Piazza is an Argentine filmmaker, critic, and writer based in Los Angeles. He studied literature at the University of Buenos Aires, creative writing at New York University, and film and video at the California Institute of the Arts.